It has been an action-packed past few days full of flying, running-around, and eating foods that have undergone some sort of frying process or another. I have upped my crunch regimen from 50 to 55 a day to help get myself back on top.
This past Friday, I woke up at 4:30am after two hours of post-Dave Hill Explosion sleep to fly to sunny Charlotte, North Carolina to cover the lead-up to a NASCAR-based event called the Coca-Cola 600, which- as best I can tell- involved driving around a track 600 times or for 600 miles, whichever comes first, and then there are signs for delicious Coca-Cola everywhere. Personally, I don't get it. I mean, I'm sure it's fun for the drivers, but I can't figure out why someone wants to watch a bunch of cars drive around in circles while sitting in the hot sun and- statistically speaking- being about 40 pounds overweight. But as long as everyone is having a good time, I fully support it. Go (insert the number of your favorite NASCAR driver here)!
I was in Charlotte covering the event for Cinemax, the popular premium cable television that shows boobs sometimes. It was a lot of fun. For starters, I got to finally see the Oscar Mayer weinermobile up close, which was just as thrilling as I thought it would be. That's a photo of me above checking off another one of my life goals from the list. It was a great, great day.


After I got up close to the weinermobile, I headed over to a little race track they had set up for something called the Lil' 600, which was a go-cart race track sponsored by Kyle Busch, the popular NASCAR driver whom I had never heard of before that day but I'm told is pretty much the Michael Jordan or NASCAR or something. I got to suit up and drive one of the go-carts, which was a lot of fun even though I wasn't very good at it and I was feeling pretty much ready to puke after sleeping only two hours, flying to Charlotte, and eating a big breakfast at the Omni hotel breakfast buffet just an hour before. Fortunately for me and whoever has to clean up the go-carts at the end of the day though, I kept my breakfast down like a non-puking champ.


Another highlight of my trip to Charlotte was interviewing Kyle Busch, mentioned earlier. That is a photo of a cardboard cutout of him above. I always forget to get pictures with actual people when I meet them. One day, when I am an old man and try to tell future generations of my exploits they will probably just think I am a crazy old guy telling tall tales (while really drunk). Anyway, Kyle Busch was a really nice guy and I had a lot of fun talking to him. He's just 24 years old and already at the top of his game. Pretty wild. He also gets free M&Ms, which I thought was pretty cool too.


The rest of my day in Charlotte was spent walking around interviewing folks and trying to figure out what was under that tarp in the photo above. I never did get to the bottom of that one. By the end of the day, I had narrowed it down to either "a pile of something" or "a bunch of stuff." Time for a coin toss.


Other excitement in Charlotte included interviewing two Hooters girls, who were probably the most Hooters-y Hooters girls I had ever met, and also trying to make the most of this impressive line of port-a-johns. My goal was to use every one of them by the end of the day, but in the end I maybe took down five or six. Next time, Charlotte. Next time. Always believe in the power of your dreams.

Hi there. I just wanted to let you know that I am going to be playing some rock shows this weekend with the Walter Schreifels (Gorilla Biscuits, Youth of Today, Quicksand, Rival Schools, Walking Concert) solo band. I will be playing guitar along with Arthur Smilios (Gorilla Biscuits, CIV) on bass and Andy Action (2 Skinnee J's, Apes and Androids) and together we will backing Walter up as he sings and plays guitar like a motherf@#ker. The first show is this Friday night, May 29, in Philadelphia at the Khyber and then we do it all over again Sunday night, May 31, in Boston at Great Scott. Then in June, we will be rocking at the Studio at Webster Hall on June 17. I am very excited to be rocking at these shows and you should totally come because that sh*t is going to be awesome.

Hello. I just wanted to let you know that this Thursday, May 28 at 8pm at the popular and incredible Black Rabbit Bar over there in scenic Greenpoint, I will be presenting another life-altering night of Smiths/Morrissey music and speed dating in the form of a little something I like to call "Heaven Knows I'm Miserable Now," the greatest and- as far as I know- only combination Smiths/speed dating night ever to take place anywhere ever. Whether you like the Smiths and/or Morrissey or you simply want to maybe make out with someone at some point that night or maybe a few nights or weeks later, you should totally come. You can totally speed date or totally not speed date and just hang out and listen to music by one of the greatest bands of all-time. Also, the Black Rabbit has excellent drinks and food and stuff and the bathrooms are really big too. I'm not even being paid to say that. Talk about good times- this is an example of that. Come or I will lose my shit.

Dave Hill

As anyone will tell you, most Internet content is kitten-based. I tend to shy away from it myself most days, but I have to admit this video is pretty great. I have watched it roughly 500,000 times in the past couple days. It pretty much has everything.

Attention People of New York City:
Hello. This is your man Dave Hill writing to remind you one last time that TOMORROW night, which is to say Thursday, May 21 at 9:30pm, I will be doing what is impossible to pretty much everyone else but business as usual to me- exploding like a motherf@#king motherf$%ker over there at the Upright Citizens Brigade Theatre while breaking out a little something known in medical circles and also on the flyers I made up for the show as the Dave Hill Explosion, the show critics are already calling "The next Blue Man Group." I can't go into great detail about what exactly is going to happen tomorrow because- as chairman of a major corporation- I have a lot of responsibilities to attend to, most of which have to do with what exactly is going on with the executive washroom and whether or not I should get one of those clacky metal ball thingies for my desk. Signs point to yes. Anyway, I really hope you can make it to my show tomorrow as it is going to be pretty much the greatest thing that has ever happened ever and also only five bucks. As if all of that is not enough, I am going to be joined on my show tomorrow by Ira Glass, whom you no doubt know as the host of the popular "This American Life" radio program, and Takka Takka, a great rock band who are from right here in town. Also, my sidebitch Phil will be there in all his house arrest-violating glory and Mr. Carl Arnheiter will be there regulating and then something that rhymes with regulating that I can't think of right now because I am about to walk into a no-holds-barred meeting with my shareholders. This is a rebuilding year for us. Anyway, you can get tickets right here.
Love,
Dave Hill

It's Wednesday and I am still recovering from this past weekend in Columbus, Ohio, where I was covering the Rock on the Range festival for Cinemax, the popular premium cable television network that sometimes has naked movies on if you stay up late enough. The Rock on the Range festival is a two-day hard rock and heavy metal festival that takes place at a big soccer stadium and is attended by about 10,000 dudes with goatees and questionable tattoos and also a handful of chicks. Bands that played included Alice in Chains, Motley Crue, Korn, Slipknot, Buckcherry, and then about 30 other bands I had never heard of until I got down there because I am kind of out of it as far as what the kids are listening to these days. But I did meet and interview lots of new bands- like Shinedown, Cavo, Charm City Devils, Halestorm, Blackstone Cherry, and probably some other ones that I'm forgetting- and they were all very nice fellows whom I wish a delightful future even if I think some of them should totally rethink the hair and also maybe the pants.
My weekend at Rock on the Range was kind of summed up by the Jagermeister scooter above, though- as of this writing- I'm not exactly sure what that means either. I guess what I mean is that there was a lot of rocking and partying and whatnot going on. And at times I wanted to escape. As promised by my imagination though, I did get to see several young ladies flash their boobs, not to me, but near enough to me that as far as I was concerned I was their target audience for that sort of thing.


As you can probably imagine, I stayed at the classiest hotel in town, the Holiday Inn Express, which- to quote my cousin Meredith- is "just like a regular Holiday Inn- only shittier." It wasn't really shitty or anything necessarily; leaner and meaner is maybe how I would describe it (but mostly because I am in a decent mood at the moment). Also, there is a free continental breakfast which is perhaps best summed up by the photo above- you can try to lose weight, but not if the Holiday Inn Express free continental breakfast has anything to say about it. Most of my fellow hotel guests didn't look like the type who skipped any meals, so it was an intense scene each morning around the biscuits and gravy station. I stuck with cereal to avoid someone stabbing me with a fork as I reached for the bacon.


The highlights of my lost weekend in Columbus included interviewing Alice in Chains, a band I have been a big fan of since way back in the '90s. They were super nice and fun to talk with and didn't wrestle me to the ground or anything at any point during my time with them, which for some reason I thought they might though I'm not sure why. I also got to interview Tommy Lee and Mick Mars from Motley Crue, which I was kind of nervous about at first but since I am a professional I was totally fine with once that red light went on. Tommy Lee picked my nose at one point during the interview. It didn't phase me at the time, but then later on I started to think about where that finger has been and wondered if maybe I should get some medical attention. Or just be really, really psyched. I keep going back and forth on that one. Oh, and above is a photo I took outside of Nikki Sixx and Vince Neil's dressing room. I saw Nikki in the hallway for a second, but our meeting of the minds never took place.
I also had a surprisingly delightful interview with Slipknot. I wasn't sure what to expect at all, but they were super nice, smart, and fun-to-talk-with guys. After a while, I even managed to forget they were covered in black greasepaint and wearing creepy horror masks. They smelled really nice too, which I also would never have expected. Keep up the good work guys. It has been noted by me, Dave Hill, a man who knows from smelling incredible.


My weekend in Columbus ended by checking out Motley Crue, the Sunday night headliner. They played all the hits. Above is a photo from behind the stage a few hours before the show. I was warned I couldn't stand there during the show or the band's explosives would knock me out of the stadium. I was backstage when the show started and I understood what they were talking about. The explosives were so loud and scary, I felt like a dog at a 4th of July picnic, all freaking out and running for cover.


After a couple minutes of being terrified by all the loud noises, I headed out to the soundboard to get a better/less explosive sense of things. Motley Crue played all the hits and- according to Tommy Lee anyway- there were lots of girls flashing their boobs up front. I was too far away to see though. That's okay- now that my right nostril and Pamela Anderson's vagina have something in common, I feel complete.

Dave Hill

Attention People of New York City:
Hello. This is your man Dave Hill writing to let you know that this coming Thursday, May 21 at 9:30pm, I am going to be bringing back my popular nightclub act, the Dave Hill Explosion, to the Upright Citizens Brigade Theatre in historic Chelsea for the very first time in the year 2009. I know, I cannot believe it either. And YES, I do think it is a little weird to be doing my show on the same day that, in 2004, Sherpa Pemba Dorjie climbed Mount Everest in 8 hours 10 minutes, breaking his rival Sherpa Lakpa Gelu's record from the previous year, thus proving once again what I have been saying for years- sherpas can be overly competitive dicks sometimes.
The real reason I am having my show on May 21, however, is that it was on this day in 1936 that Sada Abe was arrested after wandering the streets of Tokyo for days with her dead lover's severed genitals in her hand, thus proving my point that it was NOT good times all the time with Sada Abe, contrary to popular belief. Before I go completely throwing Sada Abe under the bus though, I will say that- despite her "I will do anything for love" approach to life- she at least had the good sense to follow what I believe to be the number one rule to adhere to if you absolutely cannot keep yourself from cutting off your dead lover's package- take it outside. People will be worked up enough already over the fact that you went and sliced off a dead man's privates, so- trust me on this one- you do not want to aggravate the situation by messing up the rug. And I am DONE speaking on this topic.
Anyway, I really hope you can make it to my show next week as it will easily be the best five bucks you will have spent within recent memory and if I am wrong you can coat me in chocolate syrup and Bac-o-Bits and then leave me for death-by-licking at the Washington Square dog run. Weeks later they will drag us both into the courtroom in those orange prisoner uniforms (I should have never pulled that crap when the EMTs showed up) and you can watch me fall apart on the witness stand. However, I will say it now- I think you overreacted.
I also wanted to mention that- aside from everything I just mentioned- I will be joined on my show next week by the man I believe to be the Wayne Gretzky of public radio, Mr. Ira Glass, host of the wildly popular "This American Life" program, as well as the excellent rock band Takka Takka. And, of course, my sidebitch Phil will be there in his now 50% more beardriffic form and Mr. Carl Arnheiter will also be there, holding it down like a motherf@#ker. Seriously, you should come. You can get tickets right here.
Love,
Dave Hill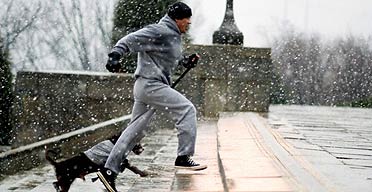 As you can probably imagine, I have just returned from yet another killer workout. I have been skipping the gym lately and working out like a motherfucker on the pier near 14th Street and the West Side Highway. It feels grittier to me, especially since the chances of being raped there are slightly higher than if I go to the New York Sports Club. To be fair, I think the chances of me being raped at the New York Sports Club aren't very good unless I go in the steam room and profess my love of good times all the time. So far this hasn't happened. You never know though, you never know. I am unpredictable, even to myself.
My killer workout regimen of late has involved running a little bit, which was advised to me by my friend Sam Bisbee, who claims it will really whip me into shape like a motherf@#ker, which is kind of the plan. I have also been jumping rope a little bit too, which was advised to me by my friend Sandra Bauleo, the super funny comedy person whom you should all know about, who said even three minutes of jumping rope a day will make me a more attack-ready person. Actually, she didn't mention the attack-ready part, but one can only assume that's what she meant.
Anyway, now it's time to hit the showers, where- if I know myself at all- I will probably end up raping myself. Here's to living.

Here is a video for a song I have been playing over and over again at the offices of Dave Hill International lately, "The 6-Teens" by Sweet. The video here isn't the best quality but the jam cannot be stopped. I wish people still rocked like this today. I mean, you know, besides me.

I love listening to Marc Maron and Janeane Garofalo talk- both separately and together- so when I saw a link to this video of Janeane on Marc and Sam Seder's popular Break Room Live program, I was all like "Oh, good, I am going to watch this." And then I did and I really enjoyed it, just as I suspected I might. Here they talk about Janeane's recent run-in with teabaggers who in the end turned out to be radio host Ken Pittman and his boyfriend.
In semi/not really related news, a few years ago when I was living in Cleveland, there was a local newscast where the anchors were reporting on a rash of consensual teabagging (the other kind) that had been taking place at a local high school (usually between classes and on lunch breaks, prime dropping-your-balls-in-someone's-mouth time). They never explained what teabagging was and it seemed pretty clear by their complete lack of giggling throughout the report that they had any idea what it actually is. It remains one of the greatest things I have ever seen. This is because I am a manchild.
And finally- and I apologize in advance for even taking the time to care about such things at all- but seriously, how did the singer for Nickelback, easily one of the lamest bands of all-time, manage to go from this remarkably bad (highlights and gelled ringlets- wow) hairstyle…


…to this even worse hairstyle.


Doesn't anyone love him enough- not even his own family- to stage an intervention of some sort? I'm sorry to stoop so low as to even bring this up, I just had to break my silence on this one. And don't even get me started on wondering why Carlos Santana repeatedly aligns himself with lame contemporary musicians in a pathetic attempt to stay relevant. You are better than that, Carlos! Get a hold of yourself!