Archive for January, 2015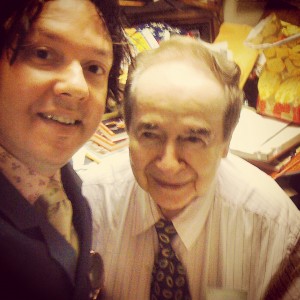 You hear New Yorkers complain a lot about how their favorite old bar has closed down to turn into a CVS. Or how their trusty corner bodega is now a Chase bank. Or how both their neighborhood CVS and Chase bank are now occupied by not one but two separate Chipotles. And while I hate that stuff as much as the next guy who never leaves his house unless he absolutely has to, at the same time it doesn't bother me all that much because to me New York's greatest resource has always been and always will be its people. And this past Saturday New York lost one of its greats- the mighty Joe Franklin.
Some people might know Joe Franklin as the guy Billy Crystal used to impersonate on SNL in the eighties. Others might know him from his appearances as himself in Ghostbusters, Broadway Danny Rose, or The Aristocrats. As for me, I first discovered Joe Franklin as the peculiar yet oddly compelling host of the legendary Joe Franklin Show, which I happened upon one evening after my dad finally decided to spring for basic cable back when I was a kid growing up in sunny Cleveland. Suddenly we had WOR Channel 9 from Secaucus, New Jersey on our TV dial and Joe Franklin in our living room each night. For me, Joe Franklin was magic, a benevolent ringmaster who embraced bona fide celebrities and eccentrics he'd collected from the streets of New York City alike with seemingly equal and infinite fervor, all without ever forgetting to get in a plug for matzos by Streit's for 43 years straight.
When I moved to New York City in 2003, I did what any reasonable person would do by looking up Joe Franklin (his number was listed) and attempting to strike up a friendship. Somehow it worked and I ended up both speaking with Joe on the phone and visiting him in his charming dumpster of an office regularly over the last twelve years.
With his TV show and most other showbiz stuff behind him, I sometimes wondered exactly what Joe did all day in that office of his, answering two separate landlines himself as towers of assorted memorabilia threatened to come crashing down on him and at least a couple of the aforementioned eccentrics stared at him silently from the row of chairs set up in front of his desk as if they were watching a matinee.
"I've often wondered that myself," a mutual friend once told me. "And I've decided that he's in there all day giving people hope."
I feel lucky I got to have been one of those people at least for a little while.
Oh, and if you'd like to get a taste of the Joe Franklin magic for yourself, I encourage you to watch a clip from his show featuring King Diamond and a rapping cop below. It's pretty much why TV was invented if you ask me.


As a dramatic conclusion to 2014, I decided to swing by my friend Benjamin Ahr Harrison's house to do the final episode of his and Chris Bowman's popular Let's Drink About It podcast, which pairs specialty cocktails with assorted life events and whatnot. This time around, they made me a concoction primarily featuring bourbon, which I haven't touched in about twelve years. It was actually pretty tasty and didn't make me cry or try to make out with anyone like last time! Even more exciting, however, is the fact that somewhere along the way, we stumbled upon the idea of doing another podcast called Let's Drink Milkshakes About It, which I really hope happens because- oh, man- I love milkshakes and ice cream in general. Ask around. In the meantime, however, you can listen to me drink bourbon here.
Happy New Year and stuff,
Dave Hill