Philadelphia Invasion TOMORROW, January 12, at the Tin Angel! Come, Dammit!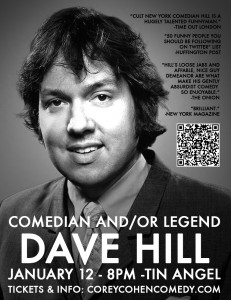 Attention People of Philadelphia (and thereabouts):
This is your man Dave Hill writing to let you know that tomorrow, Thursday January 12, I will totally be showing up at the Tin Angel, which is located right there in your town and giving whoever shows up what will basically amount to the show of a lifetime.  I am even bringing my own snow machine and explosives.  As if all of that is not enough, I will be joined tomorrow evening by the great Nikki Walter and Daniel Eastman.  You can get more info here.  Also, read this exciting interview I did with Philadelphia Weekly here.  I answer all the tough questions.  Okay- see you tomorrow or else.
Still street,