Archive for December, 2010

This past weekend, I appeared on the popular This American Life public radio program (My fifth time! Yeah! This is my new personal record for appearing on the show) as part of their "Comedians of Christmas Comedy Special" along with Wyatt Cenac, Edith Zimmerman, Mike Birbiglia, Gabe Liedman, Jenny Slate, and Julian McCullough. For my part, I wrote an incredible Christmas song and then sang it while the great Doug Gillard backed me up on axe (this means guitar). The song was chopped up a bunch on the actual broadcast because people probably wouldn't have been able to handle all the heat I was bringing, but you can download the longer version right here. It will improve your holidays. Or at least your today.
Feliz Navidad,
Dave Hill

Last night, I couldn't sleep, so I made this groundbreaking film via xtranormal.com. I hope you enjoy it so much.
Love,
Dave Hill

On this, the 19th episode of my incredible podcast, I am joined by actor, writer, and man-about-town Craig Bierko, whom you no doubt know from such films as The Long Kiss Goodnight, For Your Consideration, Scary Movie 4, Cinderella Man, and many more and also the television programs "Damages", "Sex and the City", and "Ally McBeal" among others, as well the awesome web series "Bathing With Bierko." Pull your loved ones close as Craig and I discuss topics including but not limited to talking John Malkovich into taking a bath with him, the concept of flow, Carrie Fisher, turning down the role of Chandler on "Friends", the weather, happiness, Times Square, and much more. You can and should listen to the whole thing right here.
Love,
Dave Hill

Hi there. Mondays- am I right? Anyway, a couple weeks ago, I took part in another edition of the great Talent Show Brand Variety Show at Littlefield, the popular Brooklyn nightclub. The theme this time around was "Cranksgiving: An evening of protests,rants and letters of complaint." The folks on the show that night were me, John Hodgman, Mike Albo, Mike Birbiglia, Ali Farahnakian, Sean Patton, Thao Nguyen, Elna Baker, Kevin Townley, and, of course, the house band Bambi. It was super fun. For my part of the show, I had Bambi back me up as I ran down a list of stuff I hate while shredding on the guitar in between. You can watch it above. I hope you enjoy it so much and share it with everyone you've ever known ever.

In other news, as mentioned previously on this website and other places too, my hot rock band Valley Lodge's hit song "All of My Loving" is now being used in a commercial for Sonic Drive-In. They are selling a delicious new and also very long hot and we are doing our part to help make people get really excited about it (as they should, cuz hot dogs are delicious). You can watch it above. Brace yourself.
Love,
Dave Hill

A couple weeks ago I dropped my laundry off at the laundromat to have the ladies that work there do my laundry. I used to do my laundry myself all the time, but since I am a celebrity with an on-the-go lifestyle, sometimes I just drop it off and let the laundry ladies take a crack at it. Usually it goes really well and I pick up my laundry later the same day and it is all folded up nicely and squeezed into a perfect rectangle that I can't even fully wrap my head around. When I picked up my laundry after dropping it off a couple weeks ago (as mentioned previously), however, something was different, specifically my floral bedspread was missing. It is a delightful bedspread that really completes the look of my bed and now it was MISSING. MISSING, dammit!
I returned to the laundromat to ask the laundry ladies if they happened to have my delightful floral bedspread somewhere in that laundromat of theirs but they didn't. They suggested that maybe it got put in with someone else's laundry and now we just had to wait for that person to return it. This seemed like a completely reasonable explanation because I knew of at least a couple times when I ended up with a few items of someone else's laundry in my laundry bag and I had to march that stuff back on over to the laundromat. I decided to go home and wait it out.
I suppose the thing to do at this point would have been to take another bedspread and put it on my bed in the meantime, but I decided against it. I wanted to be constantly reminded of the fact that my delightful floral bedspread had gone missing, even if that meant freezing my ass of in the process.
I went back to the laundromat a couple days later to see if maybe someone had returned my bedspread. They hadn't. And I've since checked a couple more times. Still no bedspread. Still no justice.
It is at this point that I am pretty sure some bastard is totally at home enjoying my bedspread, cozying up to it late, late night at night and enjoying it just as I had been for the past couple years. It pains me to think of this, especially when I'm freezing my ass off in my own bedspread-less bed back at my apartment, a place where innocence was now shattered. Eventually though, I am reminded of the fact that my balls and general ass area have been all of that bedspread and now that bedspread thief is pressing his or her face up against it. It is in that moment that a comforting warmth spreads across my body and I need no bedspread at all. And then I fall into a deep, deep sleep and dream the dreams of small children who know nothing of a world where some bastard steals some other bastard's bedspread.
Love,
Dave Hill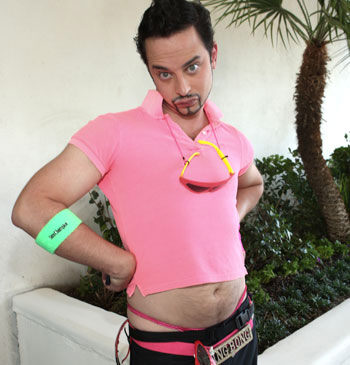 Hurray for the Internet- episode 18 of Dave Hill's Podcasting Incident is here! This time around, I have my dear friend, the lovely and talented Nick Kroll, whom you no doubt know from such programs as "The League," "The Life and Times of Tim," and "Children's Hospital," as well as such films as "Get Him to the Greek," "I Love You, Man," "Date Night" and more, over to the worldwide headquarters of Dave Hill International for a fireside chat. Brace yourself as Nick and I discuss topics such as his upcoming Comedy Central special "Thank You Very Cool", the great Fabrice Fabrice, Stephen Hawking, the events of September 11, his struggles with eczema, spotting guitar instructor Dan Smith on the streets of New York and much, much more. You can listen to the whole thing right here. I hope you enjoy it so much.
Love,
Dave Hill

Hi there. It's me Dave, from before. If you are in New York City tonight, you should totally come to the Metropolitan Museum of Art, which is a really popular art museum right here in town, for "Fancy Meeting You Here", an incredible tour of the museum hosted by my friend Carl Arnheiter and me along with tonight's guest comedians Joe Garden, John Gemberling, and Katina Carrao. In short, it's a comedy tour of the Met with each comedian taking on one exhibit and/or theme and making it his or her bitch. It all starts at 7pm. You can get more information here or here, depending on where you feel like clicking. After the show, we usually go drink something. What a lovely night in New York City! This town is back!
Love,
Dave Hill
As many of you who have been following my career from the very beginning are well aware, I appear on basic and premium cable television whenever the President of Show Business will let me. Above, you can watch me reporting on the U.S. Air Guitar Championships for the popular Fuse TV program "A Different Spin with Mark Hoppus." I hope you enjoy it so much.

And here I am doing a Max Tour Stories segment with the hot rock band Alberta Cross for the popular Cinemax network. For this shoot, I rode around in a limousine for a couple hours drinking beer. My job is super hard sometimes. Anyway, watch both of these right now or I will stab you.
Love,
Dave Hill

From the world of advertising, I am excited to report that my hot rock band Valley Lodge's hot rock song "All of My Loving" is currently being used in a commercial by the Sonic hamburgers people. I have not yet seen the commercial myself, but it is my understanding the commercial promotes their new footlong Western chili dog, which sounds delicious if you ask me. Anyway, as you can probably imagine, we were paid a tremendous sum of money for all of this, most of which is going toward buying new, tighter pants. Also, we're recording some new hits now that are so good it's actually kind of weird.
Love,
Dave Hill