Archive for December, 2009

As you can probably imagine, I ripped a lot of sweet guitar solos in 2009. This one, however, is probably my favorite. The song that it appears in didn't turn out very good, so it will probably never see the light of day, but the 21 seconds of rock heat I laid down onto the demo in the form of this guitar solo is pretty cool I think (albeit in a noodley way that probably only appeals to me in any way). I hope you enjoy it on some level or another (or maybe another one after that). I think the 15 year-old me would have been totally into it.

Attention People of New York City:
The Holidays- do not even get me started on this topic. As I write to you today, swaddled in chinchilla and slowly recovering from a raccoon attack that has instantly made me the most famous boy in my hometown this Christmas, I hope you and your loved ones are having a really nice time. Also, I wanted to invite you to the final performance of my newish, ever-evolving, and incredible monologue and rock assault called "Big in Japan" before I travel to the popular European town of London, England, where I am considered a genius and also highly bangable, to perform it for all the people who live there. I strongly encourage you to come out to the Upright Citizens Brigade Theatre on Wednesday, January 6 at 8pm to support the arts and also get your ass handed to you by all the motherf@#king heat I am bringing like a motherf@#ker (because I am an artist). I realize there has been some confusion as to exactly what my "Big in Japan" show (which is directed by the great Jeff Tomsic and assistant directed by the great Nicole Brodeur) is and how exactly it is different from all the other incredible stuff I have done in the past. Let me break it down for you:
At around 8pm on Wednesday, January 6, some announcer guy at the theatre will ask you to turn off your cell phones and shut the f@#k up in general (This will be done politely per my request to keep things classy at all times). Then they will turn out the lights for a second and the next thing you know I will walk out on stage wearing a really fun outfit I pulled together back at the house. Then I will start talking for up to but no longer than one hour straight in the tradition of all the other great orators who have come before me, like Julius Caesar, Thiruvalluvar, Cicero, Abraham Lincoln, Decimus Magnus Ausonius and some of the others I can name without even trying. At various points in the program, I will also shred on my guitar, play a video or two, and gesture to pictures being projected on a screen behind me while talking about the thing in the picture. Topics discussed shall include but not be limited to love, monkeys, mass transit, my privates, the entire country of Japan, and "Smoke on the Water" by Deep Purple. Nothing is going to be intentionally set fire except for your hearts. If you don't have a nice time, you can wrestle me to the ground and take whatever you find in my pockets. I really hope you can make it. In fact, if you don't come I will be a total jerk to you next time I see you, even more than last time. No, just kidding. But it will break my baboon heart. You can get tickets right here.
Love and Happy Everything,
Dave Hill

I am in Cleveland as I type this, hanging out for the holidays with my family. So far I have been mostly just sitting around and talking and eating stuff with my family, which is I guess what most folks do this time of year with the exception of probably a lot of people. Last night, I ate a hamburger with pulled pork piled on top of it, something I never thought possible but I swear it happened. I feel like I have been putting on weight, which has greatly affected my crimesolving skills. So far I have solved almost no crimes during this visit, though I have happened upon a few clues I can't discuss as of this writing as it will compromise my abilities to solve crimes, something I am really good at.


On the eating front (and in case you think this is not important for you to read- you are wrong), I have eaten at a Mexican restaurant, an Italian restaurant, and a Turkish restaurant with my father. My dad is on the hunt for some sort of dessert item that he thinks is some sort of flan (the popular Mexican, custard-based dessert) but is more cake-like in nature. I keep telling him that the cake-like aspect of the dessert in question disqualifies it from being flan. Apparently he had this elusive dessert item at a bakery in the Bronx a few years ago that has since burned to the ground and he has been on the hunt ever since, left to his own devices as a result of the burned down bakery being of little to no help to him at this point. As a result, we have been trying to go to restaurants of every ethnicity possible in search of this mysterious dessert the he insists is a member of the flan family even though I keep telling him flan is an island and it walks alone like a fugitive on the run, rarely sleeping and trusting no one. Last night, we had a breakthrough in that my brother says the the bakery my dad had the dessert in question was Serbian, leading us to believe that the dessert that my dad really wants is Serbian in nature. The difficulty now is finding another Serbian bakery or a Serbian restaurant to go try and find this dessert that has been confounding us all this time. If you are someone you know can help me and my dad figure out what the hell kind of dessert he is talking about, please call the helpline or write to me care of this Internet website so he will finally shut up about this. Also, I kind of want to try this dessert now too.


In other news of great importance, I got a lot of wonderful things for the popular Christmas holiday this year, including but not limited to a pair of hot sauce-based pants. The hot sauce in question is Tabasco, which I consider to be the Wayne Gretzky of all hot sauces. It's not the hottest or anything, but you can't deny it's place in the world as the #1 hot sauce of all-time. The hot sauce pants in question (picture above- apologies for the crotch shot. I wasn't sure how else to photograph them), were given to me by my nephew Blake, who had the good sense to see these on the racks at some clothing store and think "Yeah, Uncle David would really like these." And he was right. Additional thanks goes to the executives at Tabasco who one day must have thought to themselves "If we put the Tabasco logo and also some hot peppers on a pair of pants that someone can sleep in or wear around the house on a lazy day or maybe even go to the store and hope that no one notices there is a flap in the front of their pants through which they can easily access their privates that would be good, right?" It's that sort of thinking that gets you a high-profile job at the world's #1 hot sauce company in the first place. I salute them as well as their assistants and also Don in accounting.
Today is Sunday and I have plotted no bold moves so far other than maybe changing out of these hot sauce pants at some point and putting on some other pair of pants that are less likely to allow my dingle-dangle to make an unexpected appearance around town. I will keep you posted on this and other important matters in the extremely near future.
Hello. Here is a new, important, and also hilarious video from Joe Randazzo, CEO of the the Joe Randazzo Assocation, Onion editor, and close personal friend of me, Dave Hill, a great American. The Joe Randazzo Association is back like a motherf@#ker and that's what this video is about. I'm not entirely sure what TJRA does, but I realize it's something I want and need in my life. A lot.


In other news, I just at some Cinnamon Life cereal for the first time since the '80s. Not sure who the dude in the wig is on the box, but I gotta say this stuff is seriously underrated. These kids today with their Wii, their boy bands, and their crystal meth- don't know what they're missing. Have some damn cereal!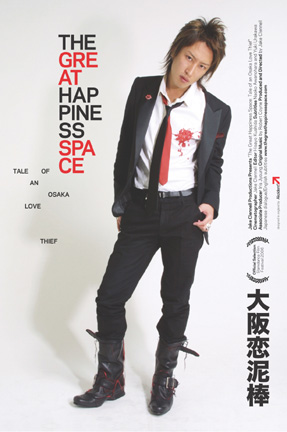 When my rock band Valley Lodge toured Japan this past March, we kept seeing these strange bars in various cities, especially Tokyo. Outside of them were headshots of pretty boys, skinny dudes in shiny black suits with their hair all highlighted and perfectly coiffed. We asked our tour manager what the deal was and he explained that they were "boys clubs." We figured that meant that they were gay bars but they weren't. Instead they were host bars, i.e. clubs where women go to pay the men in the photographs to hang out and talk and drink with them all night. It seemed unfathomable to us, but it turns out this sort of thing is big business in Japan. We couldn't believe it. And if any of us could speak fluent Japanese, I think we would have wanted in. Big time.


As part of my ongoing fascination with the host bar phenomenon and Japan in general, I watched a great documentary on the subject called "The Great Happiness Space." The film came out in 2006 apparently and chronicles the goings-on at the most popular host bar in Osaka. It was pretty mindblowing, like some weird mix of "Jersey Shore," "Memoirs of a Geisha," and "Scared Straight" all rolled into one. I highly recommend it if you're into weird Japanese stuff like me (and a lot of other people, including most of the people in Japan as best I can tell). Speaking of which, that's me above posing in front of one of the billboards they had everywhere for host bars in Tokyo. If I can get the language down, I'm pretty sure I could be a contender. I've already got the hair and the outfits.

Hi. It's me, Dave, from before. Anyway, here I am once again in another installment of the great Renaissance fair-themed web program "All's Faire" playing a pervy school teacher leading a field trip. As you can probably imagine, I really nailed it. I hope you enjoy it a whole bunch. You can watch the whole series (and you should) here.

Attention People of New York City:
Wednesdays- am I right or am I right? Anyway, I just wanted to let you know that this Friday, which is to say December 18 at 8pm at the Upright Citizens Brigade Theatre in the heart of Chelsea, America's neighborhood, I will be breaking out another installment of my new one-man show type thing "Big in Japan," now in the popular one-hour format and featuring more talking and stuff by me, Dave Hill, one of the greats. This show has been an ongoing work-in-progress, slowly evolving into a theatrical experience that has been very fulfilling for me as an artist and also for chicks who totally want to bang me. During the show, I will talk about my life as a rock icon and major celebrity in Japan (the Canada of the Far East) do some shredding on my sweet guitar, and just sort of blow minds in general through a variety of means most motherf@#kers can't handle. Bring a date or something. Also, I wanted to let you know that my show is directed by the great Jeff Tomsic and assistant directed by the great Nicole Brodeur, who is part French. I could see your night shaping up well if maybe you met a friend for a drink a bit before the show, headed over to the theatre for my incredible show, watched it, and then left the theatre exhilarated and quite possibly soiled, at which point you could pack up your dreams and head over to Port Authority and get on a bus headed straight to somewhere, anywhere to take a chance on love, possibly with a mustachioed man named Don who is from out of town and also between jobs. Or maybe you could just grab dinner after the show or something instead. Really, it is up to you. I am not trying to get you to leave town. You seem nice. Anyway, I really hope you can make it. You can get tickets right here.
Love,
Dave Hill

Happy Monday. Anyway, as rumored here and probably some other places too, I am going to be in London, the popular English town, this coming January, which is just a few weeks away. I am going to be doing a number of shows I am hoping the people of London can come out too so we can all have a really nice time. For example, as hinted at on the e-postcard above, I am going to be performing at the Hen and Chickens Theatre in Islington on January 14, 21, and 22. I am also performing some other places too, but I am still sorting those details out. I will keep you posted. Anyway, if you live in London or thereabouts, I am hoping you can come out and watch me talk and stuff and then afterwards we can sit around and talk and drink stuff and then maybe I can sleep on your couch or at the foot of your bed. In the morning, depending on how things have gone, I will take you out for snacks.

If you would like to sit and watch/hear me talk for up to but no longer than 5 minutes and 56 seconds, you have just hit Easy Street because above is an interview with me done by Lori Harfenist aka the Resident. This is probably the most serious and drunkest interview I have ever done and I had a really nice time, so cherish it for all it's worth. I hope you enjoy it a whole bunch.



Thanks to the City Chicken for sending me this on YouTube. This is one of the best episodes of one of the greatest shows of all-time, "Get a Life!," starring one of my favorite comedians of all-time, Chris Elliott. I am sure you will love it. And if you don't, you are dead to me.