Archive for February, 2009

I have seen the future and his name is Rodney Speed. Last night, I got to become a Rodney Speed Experience alumnus by playing with the band when they opened for the Gene Ween Band at the Highline Ballroom last night. The band's lineup rotates every show with Rodney being the unstoppable force that keeps it altogether. That's him above (photo by Dino Perrucci). As I'm sure you can tell, he's pretty much the biggest badass of all-time.


The set last night consisted mostly of covers like "Sweet Home Alabama, "Born to Be Wild," "Should I Stay or Should I Go," and other classics as well as the soon-to-be classic "American Man," written by Wildhearts mainman and RSE drummer Ginger. Everyone in the band except for Rodney wears matching track jackets and white sweatpants. After the show, a cute girl in the crowd told me the sweatpants were very flattering, which made violating my "no sweatpants in public" policy completely worth it.
As I walked through the crowd after our set, a couple girls told me they made up a chant for the band that goes "Rodney! Fuckin'! Speed!" Not too shabby. I told Rodney about it in the dressing room later and without even looking up from his dinner he said "Yeah, I'm not surprised."

If I could ever be even half the badass that Rodney is, that would still make me the second biggest badass in the world. Above is a video of the Rodney Speed Experience playing "American Man." I wasn't in the band at this point, but I'm hoping they let me play with them again sometime soon. Rodney's light is so bright my skin is burned.

Last night I went to see the hit Broadway musical "Pal Joey" even though I am so totally not gay it's not even fucking funny. Martha Plimpton was so great as Gladys Bumps I can't even get into it right now. I was bewitched, (hot and) bothered, and bewildered…by her performance that is! (This is a clever reference to one of the songs in the play. I should probably start writing reviews for some fancy play-reviewing magazine). Anyway, if they don't give Martha one of those Tony Awards for this I am going to yank all the fillings from my head and make one for her myself.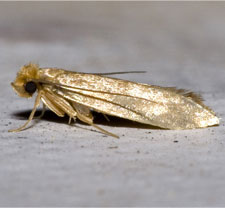 Today I scored what appears to be a huge victory against the moths that I have been sharing my apartment with for at least the past year or so. The moths in question are clothing moths, the kind that eat all your wool clothes, rugs, and whatever taxidermy you have lying around depending on their mood. They are total dicks. They've ruined a few of my sweaters and one particularly stylish pair of pants and probably some other things I haven't even discovered yet. I thought they were gone for good a couple months ago, but recently they started making appearances again (usually at night- party time for moths).
I wouldn't really mind the moths if they didn't ruin my clothes and stuff. Bugs in general don't bother me much (with the exception of cockroaches I suppose) and the moths flying around actually give my apartment a kind of cool "Silence of the Lambs" vibe. But once you take the clothes-ruining into account, it's really just a bad scene all around- you gotta kill those fuckers, even if you're a Buddhist (not that I am, though I do love the outfits)
This morning I woke up with renewed determination to somehow defeat the months once and for all. I remembered I had pushed an oriental rug under my bed when I first moved in and for whatever reasons never thought to check if maybe that's where the moths were setting up shop. I finally decided to investigate the situation this morning and was horrified by what I found- a rotting pile of rug infested with moth larvae all squirming around with looks on their faces that seemed to say "When I'm all growed up, I'm gonna eat Dave's favorite outfits!" Those fuckers. I yanked rug the carcass out from under the bed, threw it in a garbage bag, and ran outside to the trash bin screaming like a little girl. I'm surprised NY1 didn't come by.
When I got back upstairs, I vaccumed the fuck out of my apartment and sprayed some nasty moth-killing cedar-scented spray everywhere. I'm probably mutating into a character from the hit movie "C.H.U.D." with all the fumes I've inhaled, but if it means not having these moths around anymore I say bring it on.
Anyway, I'll keep you posted on whether or not today's battle spells the end, but I really feel like I've pretty much destroyed the Millenium Falcon. If these moths have any more fight left in them I'll be impressed. Stay tuned.


In other, non-moth-related news, here is Morrissey's new video for "That's How People Grow Up" from his great new album "Years of Refusal" (it's embeddable for some reason. And speaking of Morrissey, anybody have any extra tickets for any of his New York shows? I need one or two. Pretty please!

And finally, my friend and fellow Valley Lodge member John Kimbrough co-wrote the opening musical number at this past Sunday's Oscars. Watch it above. Great work, John!

I was thinking of the Shaggs for no apparent reason today and one thing led to another and I happened upon this video someone made for their hit song "My Pal Foot Foot." The Shaggs story is pretty awesome as is their sound (albeit in kind of different ways). Check it out.

Dave Hill

It's been an action-packed past few days. Well, not really, but here's what I have sort of been up to. On Saturday, I went to see Marc Maron's "Scorching the Earth" show at UCB followed by Emo Phillips at Comix. They were both great in completely different ways and I am afraid of them both for completely different reasons. Not sure when Emo and his hair will be back in town, but Marc is doing his show again soon around town, so you should check that shit out for sure. He's on it like a motherfucker.


In other news, on Saturday I happened upon this black and white paisley suit in the window of a new Brooks Brothers outpost of some sort on Bleecker Street. It's pretty awesome. The jacket alone was $1200 (couldn't bring myself to look at the price tag on the pants after I saw what the jacket cost). It takes a special man to both afford and pull off a suit like that. I feel like I've definitely got the latter covered (I mean, come on- look at me), but it would be an act of grave fiscal delusion to consider myself the former. Or maybe I should just go for it. Who knows? Somebody's gotta wear this suit, right? They should probably just give it to me.


Speaking of low-quality photos I've taken on my crappy cell phone recently, above is a sign I saw in the window of a porn shop in Hell's Kitchen. Their sign advertising fetish DVDs reads, "We specialized in the unique and unsual." Oh, yeah? What do you specialize in now then? And you can't spell! Ha! Ha! Guess who just tore the owner of this porn shop a new one! This guy! Man I am on today! Actually, I'm not sure why I took a photo of that sign really in the first place. I think I might have been standing there waiting for somebody or something.
Okay, that's about all the razor sharp social commentary I have in me for today. If you are in New York City tonight, I am hosting the VH1 showcase at the Village Underground tonight. Come by and say hi and I will maybe show you other pointless photos I have taken with my cell phone.


And finally, here is a new song from the new not-sure-what-it's-titled-yet Valley Lodge album. I hope you like it a whole bunch. And speaking of my rock band Valley Lodge, the photo above was taken by Ryan Barkan at our show last week at Union Hall. You can see more here.

Mondays- am I right or am I right? I will be checking in with a full report later, but in the meantime I have to say I really love this video for Peter, Bjorn, and John's "Nothing to Worry About." It's pretty much back to the drawing board for everybody else after this one. I go to Japan in two weeks and I'm hoping it's pretty much like this the whole time.

Here is an exciting/terrible movie review video I made in my apartment yesterday to keep from going stir crazy or something. This time around I preview the hit movies "Tyler Perry's Madea Goes to Jail," "Fired Up," and "Friday the 13th." I imagine it's only a matter of time before Entertainment Tonight comes calling.

Back in December, I went down to West Palm, Florida to school Venus Williams, Serena Williams, and Jelena Jankovic in tennis for the popular HBO network in anticipation of the upcoming BNF Paribas Showdown for The Billie Jean King Cup, which is a tennis match. Here are some of the highlights, above and below. I hope you enjoy them so much.



Here's the new video by my friend Alessi for her band Alessi's Ark's song "Over the Hill." She is really great and this video is really great too. Her album comes out next month. I predict world domination and I am pretty much always right about such things. I'm hoping I can be a roadie or something. Watch it now or I will stab you.

In other news, here is a video of great importance by my friends at Disposable Television for a good cause. Do your part and watch it once you get done watching Alessi's video.

Hump Day- Am I right? Anyway, the Valley Lodge rock show at Union Hall last night was a lot of fun. That is a photo of us above totally rocking. It was our first show ever with Phil switching over to guitar from bass and Eddie Eyeball stepping in on thunder broom (which is to say bass). I am excited for the next one. I had some tuning issues (as usual) and was made a bit dizzy by the lights (might have been the pills), but other than that I am putting it in the win column. I do kind of regret talking about "fingering" and "fingerbanging" on stage because- even though I meant it in the most romantic of ways- it never fails to creep people out (which is why I tend to bring it up in the first place).


After the show, I had a nice chat with pickle magnate Jon Orren of Wheelhouse Pickles, an excellent place to get pickles and pickle-related products. We spoke a bit about the pickle game in the current economy and how it can spell tough times for a pickle man. It pains me to think that people don't buy pickles as much when the economy is down. Sometimes I just don't want to live in this world. Treat yourself to some delicious Wheelhouse Pickles today and show the world you are a survivor, dammit.


In other news today, I am still trying to make sense of the whole Travis the Chimp incident (that is him above in a rare moment of not doing detective work, rollerskating, or maiming people). Chimps seem like good times all the time, but man when they decide the party is over they can be total dicks about it. And what's with the hand eating? Evolve already! A thigh? An arm? Sure- I get it. But a hand? Sorry, that's just gross. Anyway, I bet Travis' owner is going to have a tough time showing his face at the grocery store and stuff over the next few weeks. When I was in grade school, my dog Blazer bit a girl in the ass and I never heard the end of it. Not long after, Blazer bit me in the face and guess what- people wouldn't shut up about that either.

In other wacky animal-related news, my friend Jeff from Used Wigs sent me this video of a Dalmatian in Japan that can ride a bike. One more example of how the Japanese- even Japanese dogs- are at least twenty years ahead of us. When was the last time you saw an American dog ride a bike? Exactly.

Speaking of fun Internet videos, yesterday my friend Nancy hipped me to this video of a Chinese woman missing her plane flight and not taking it very well. Not sure how I missed this one. I don't like missing flights too much either, but usually I just head over to Cinn-a-bon and just, you know, sort of deal with it until I can get on another plane. Sheesh.


Finally, check out this cool website/blog. Fun products from the future. I love that shit.