Rough Trade Publishing's "Song a Day" Featuring Valley Lodge and Painted Doll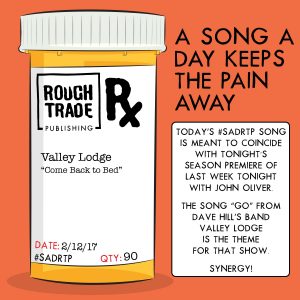 Here's something cool. Rough Trade Publishing, the company that handles the musical catalogs of my hot rock bands Valley Lodge and Painted Doll, are releasing a song a day from their artists for 90 days and you can get every song for just $20.17. Included in the mother lode is a new song by Valley Lodge called "Come Back to My Bed" and "Together Alone" by Painted Doll. All profits go to the Southern Poverty Law Center, who are doing some great work during these difficult times. Support a great cause and get some scorching hot jams in the process by clicking here right now.
Rock,
Dave Hill
Leave a Reply
You must be logged in to post a comment.