Archive for February, 2017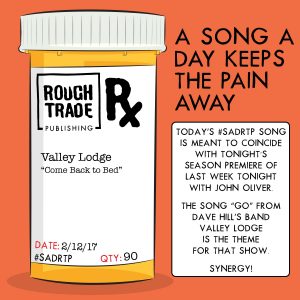 Here's something cool. Rough Trade Publishing, the company that handles the musical catalogs of my hot rock bands Valley Lodge and Painted Doll, are releasing a song a day from their artists for 90 days and you can get every song for just $20.17. Included in the mother lode is a new song by Valley Lodge called "Come Back to My Bed" and "Together Alone" by Painted Doll. All profits go to the Southern Poverty Law Center, who are doing some great work during these difficult times. Support a great cause and get some scorching hot jams in the process by clicking here right now.
Rock,
Dave Hill

Hi. It's me, Dave again, writing to you from sunny London. I hope this note finds you incredible. Anyway, yesterday I had the great pleasure of being a guest on the great Jonathan Ross' radio show on BBC2 radio here in the UK. Mel C. from the Spice Girls was on too. I saw her in the lobby but was too shy to walk up and say hi. Life, right? Anyway, I had a blast on the show and even got to do my wildly popular "Crime Blotter" segment from The Goddamn Dave Hill Show on the air with Jonathan. You can and should listen to the whole episode right here.
Thanks,
Dave Hill (from before)

Hi. It's Dave again. My good buddies in Tragedy, an all-metal tribute to the Bee Gees (and beyond!), made a video for their new version of "Stayin' Alive" and totally asked me to star in the music video for it, which is awesome. You can and should watch it above unless you don't like stuff that's awesome. Also, go see Tragedy live because they are the best basically.
Still street,
Dave Hill

You know, I had almost given up on being in Vogue magazine entirely and then it happened, dammit- Vogue magazine included me in an article called "5 Comedians Who Might Help You Stay Sane for the Next 4 Years", which is to say that I am one of the five comedians they talk about. And while, sure, I was kind of hoping they would have had me all sexy-like in some fashion spread with a donkey or something, this is pretty cool too and I'll take it. Thanks, Vogue. You can read the whole thing right here.
Still street,
Dave Hill