Here's something cool- the great Michael Ian Black recently talked to Business Insider about comedy and stuff and they asked him to say who he thinks are four of the best comedians today. And get this- he named me! And I didn't even have to give him any cash! He also named Ron Funches, Jen Kirkman, and Kumail Nanjiani- three great comedians that I am honored to be mentioned with. You can read the whole thing right here. Okay, I am realizing this is a pretty shameless post so I should probably stop typing. Anyway, just wanted you to know what's keeping me off the ledge today. Also, Michael has a new special called Michael Ian Black: Noted Expert on the Epix network now and if you don't go watch it you are a damn fool!
Still street,
Dave Hill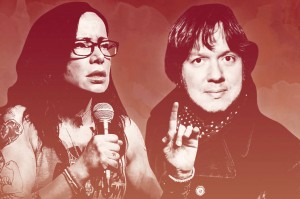 Recently, my dear friend Janeane Garofalo and I had a delightful phone conversation and now you can read exactly what we chatted about in Vulture's "Comics Talk to Comics" series. As you can probably imagine, it was a real emotional rollercoaster ride to be a part of and, I can only imagine, to read as well. I hope you enjoy it so much. You can read it right here.
Love,
Dave Hill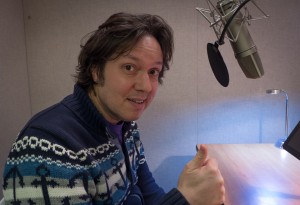 I don't know if I mentioned this at all, but my new book Dave Hill Doesn't Live Here Anymore has been released into the wild and you can totally get it wherever incredible books are sold right now, like here, for example. Anyway, as if all that weren't enough, you can also get the book in the popular audio format as read by me, Dave Hill. It's like I'm whispering into your ear for hours at a time or something! You can get the audiobook right here. And to here me talking about the arduous process of being locked in a damp closet to record it, click here.
Thanks,
Dave Hill

I knew my 1/4 Canadian heritage would pay off one day and yesterday it did as I was the guest on the popular The Q show with host Shadrach Kabango on CBC Radio, the big national station up that way. It was a lot of fun. Shad and I talked about my new book, Mexican prison, my dad, Donald Trump, and other important topics and I had a lovely time. You can listen to the whole thing right here. I hope you enjoy it so much as it pretty much has everything.
Gretzky scores,
Dave Hill

Recently I had the pleasure of ripping a sweet guitar solo and making a guest appearance in the new video from Mark Douglas and the Key of Awesome guys. This one is called "The Guest Rapper Killed the Guitar Solo." It's truly incredible and I am honored Mark let me swing by to melt some faces.
Still street,
Dave Hill

I had the honor of being on WNYC's Leonard Lopate Show today. You can listen to the whole thing right here. The episode also includes discussions on Syria and ISIS, so this one pretty much has it all. Don't miss it.
Over and out,
Dave Hill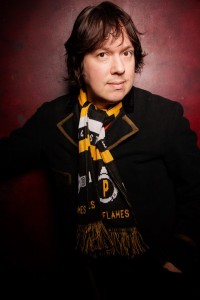 Oh, hey. It's Dave again. I did a fun interview about my new book with the popular Interrobang!? website and now you can totally read it here. I hope you enjoy it so much.
Thanks,
Dave Hill (from before)

To celebrate the release of my new book (I might have mentioned it before), my dad and I recently joined forces to play the greatest version of "Stairway to Heaven" of all-time. In fact, Jimmy Page would probably cry and sell all his guitars if he watched this. Watch it now, above, and get schooled by my dad, Bob Hill, big time. He is the king.
Love,
Dave Hill
Hi. It's Dave again. If you would like to read a nice article about me and my new book, you can read one written by the great Michael Heaton in the Cleveland Plain Dealer right here. He nailed it.
Still street,
Dave Hill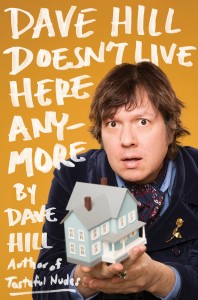 Attention World Citizens:
Hello. This is your man Dave Hill writing to let you know that this Tuesday, which is to say May 10, my new book Dave Hill Doesn't Live Here Anymore will be unleashed on an unsuspecting public by Blue Rider Press, the popular book company. It is the best book I have ever written and I strongly encourage you to pick up a copy in your preferred format (hardcover, e-book, or audiobook, for example) so you may embark on the literary thrill ride of a lifetime. Get it at your favorite local bookstore or do me a solid and pre-order it now right here.
In my book, which, as mentioned previously, is called Dave Hill Doesn't Live Here Anymore, I talk about hanging out with my dad, the time I went to prison in Mexico, an aborted attempt at becoming a kung fu master, the time wrote ringtones for Donald Trump, and other matters of international importance. It has already received advance praise from Dick Cavett, Malcolm Gladwell, Janeane Garofalo, and pretty much anyone else who has even looked at it for a second. In short, it pretty much has everything and I really think you are going to like it so much. Also, in an attempt to boost sales/drink for free, I am embarking on a national book tour in May and June. Please come out when I roll into your town. It would be cool if I could crash at your place, too. Yes, my publisher is springing for classy hotels (minibar inclusive), but I like you and don't want our time together to end. Ever. Anyway, here are the dates so far:
May 10 BookCourt with Malcolm Gladwell Brooklyn, NY
May 11 McNally-Jackson with Adam Resnick New York, NY
May 12 Washington Heights Y with Mike Sacks New York, NY
May 13 Loganberry Books Cleveland, Ohio
May 15 Q.E.D. Astoria Queens, NY
May 18 Bryant Park Reading Room New York, NY
May 18 R.J. Julia Madison, CT
May 19 Papercuts JP with Steve Almond Boston, MA
May 23 BookPeople Austin, TX
May 24 Tattered Cover Denver, CO
May 25 Livewire Radio! Portland, OR
May 26 Book Soup Los Angeles, CA
May 29 Sasquatch Festival Quincy, WA
June 2 D.C.'s Tavern Hoboken, NJ
June 9 Boswell's Books with Matt Wild Milwaukee, WI
June 10 White Rabbit with Mike Adams Indianapolis, IN
June 11 Printer's Row Lit Fest Chicago, IL
Okay, that about covers it for now. Please feel free to forward this email to anyone who likes stuff that is incredible. And definitely pick up a copy of the book. I wrote the f@#k out of that thing.
You are the best,
Dave Hill