Happy Monday. Recently, I sat down and drank stuff with Kenny Herzog from Punch to talk about all sorts of things, including scotch, what I've been up to lately, and whatnot. You can read it right here. I hope you enjoy it so much!
Still street,
Dave Hill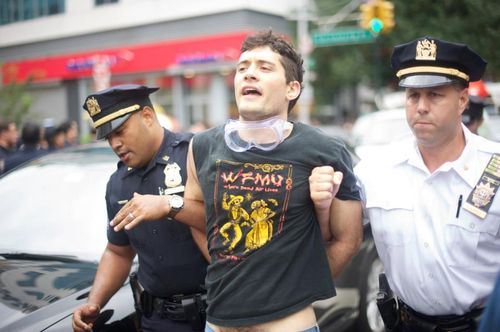 As many of you know, I have my own radio show on WFMU, the greatest radio station of all-time, on Monday nights. Currently, WFMU is having its annual fundraising marathon and I strongly encourage you to contribute and help keep free-form, independent radio alive in the process. You will also keep the Goddamn Dave Hill Show on the air while you're at it, which I really appreciate, you know, because that's my show. My name is right there in the title.
If you're "hip" to WFMU, you probably already know that- with the exception of a skeleton crew who keep the operation up and running- everyone else at the station, myself included, works entirely for free. None of the donation money goes to lavish parties, chimp rentals, or one of those pits with the plastic balls you see at amusement parks (which are awesome)- every dime goes to keep the station up and running and on the air 24/7. And in a world of corporate-sponsored garbage, WFMU remains one of the few bastions of true independence, creativity, and stuff that is pretty awesome in general left on earth. Who else would let me interview Dick Cavett on-air and then immediately follow that with an erotic short story I wrote in my spare time before playing back-to-back Cannibal Corpse and Francoise Hardy all while wearing nothing but hotpants and a little self-tanner?? That's right- no one. And if you would like to see this sort of thing continue in this world, do your part and donate today. Did I mention there are prizes too (like this incredible Danny Hellman-designed Goddamn Dave Hill Show t-shirt, for example)? In short, it's nuts not to donate. Do it. That would be so great.
I love you,
My friends in Tragedy, the tri-state area's #1 all-metal tribute to the Bee Gees and beyond, made a video for their cover of "You're the One That I Want" from the Grease soundtrack and it is incredible. Watch it above and get your mind blown.
Happy Monday,
Dave Hill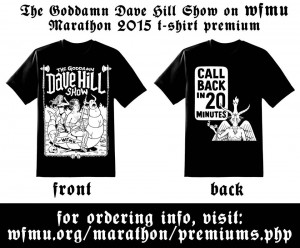 The WFMU Marathon 2015 starts this Sunday, March 8 and goes until March 22. Please do your part in supporting incredible radio and also keep giving me a reason to leave the house on Monday nights in the process by donating now! There are all sorts of mindblowing prizes and whatnot that you can get depending on the size of your donation. This year, premium donors ($75 or more) to the Goddamn Dave Hill Show will get the above totally awesome, limited edition T-shirt designed by the great Danny Hellman, one of my favorite artists and also one of the greatest artists of all-time. The shirt is black with white ink. The front  features me shirtless and ripping a sweet guitar solo on a Flying V while riding some crazy beast from the future. There is also fire and a hot chick dancing in the background, which is awesome. The back of the shirt features Satan getting told to call back in 20 minutes by me, Dave Hill, from before. In short, this is the greatest shirt of all-time. Go here and donate now to get this sweet-ass shirt and support a great, great radio station while you're at it. That would be so great.
Together we can make a difference,