I meant to post this sooner, but Michael Cavadias, John Early, Jemima Kirke and I made this video to promote this show we're doing tonight at the Ace Hotel with Cole Escola and Kate Berlant. It's gonna be the best. I hope you enjoy the video so much.
Still street,
Dave Hill

This past Tuesday, which is to say June 17, 20014, I had Damien Echols (West Memphis Three) and his wife Lorri Davis, authors of the new book Yours for Eternity on my popular radio program, The Goddamn Dave Hill Show on WFMU. We talked about love, prison, Danzig, and all sorts of other interesting stuff. Then Brandon Seabrook came by and shredded on the banjo so much that I practically had a seizure. I also played more hot jams than should be legal, including Danzig. You can and should listen to the whole thing right here.
Thanks,
Dave Hill

Last week, during my glamorous visit to Los Angeles, Home of the Stars, I taped an episode of @midnight, the popular Comedy Central program hosted by Chris Hardwick. Also, on the program were the lovely and talented Michelle Buteau and Steve Agee, who is much taller than I am. I had a really fun time and there were lots of delicious snacks in my dressing room, which was great for everybody. And even though I lost, I swear that was only because my buzzer was broken. I sense foul play! Anyway, you can watch the whole thing right here. It is the best.
Love,
Dave Hill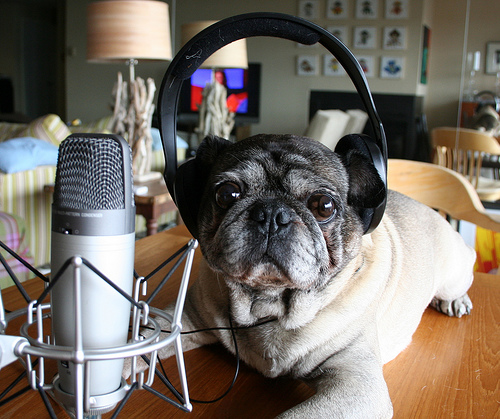 What with me being in show business and all, I recently spent a week in Los Angeles, Home of the Stars. And while most of my time there was spent in high-powered meetings with the most powerful people in Hollywood and also having intercourse with starlets and whatnot, I also managed to sit down and be a guest on a slew of podcasts, which are from the future. Some of them aren't out yet, but some of them are! The ones that are include Jordan Jesse Go!, the Comedy on Vinyl podcast, and the David Feldman Show and I totally encourage you to listen to all of them right now. That would be so great. Also, that is a picture of a dog podcasting above. I know- I got a pretty big kick out of it too.
Still street,
Dave Hill