Recently, I made an appearance on the great Amy Schumer's excellent television program "Inside Amy Schumer" on Comedy Central in a sketch called "Cat Park", which is incredible. I got to wear a zip-up sweater and everything and it was awesome. You can and should watch the whole thing above right now and then again immediately after that. It is some of the best cat-based work I have ever done and I really hope you like it so much.
Thanks,
Dave Hill
If you're anything like me, you're really, really excited about the birth of the baby that Prince William and Kate Middleton are about to have as a result of the consensual sexual intercourse they had about nine months ago. In anticipation of all of that, I recently traveled to the United Kingdom on a plane all by myself to shoot an important five-part series on the subject called "Royal Baby Watch", brought to you exclusively on Funny or Die, the popular and excellent website. You can and should watch the first episode above repeatedly. And please make everyone else you know do the same. That would be so great.
Your man,
Dave Hill

Hi. A few months ago, I shot a guide on how to buy guitars in London with the great William Sansom, who totally wrote and directed the whole thing. You can watch the video above. I hope you enjoy it so much and have a great day in general.
Love,
Dave Hill

My friends in the excellent band Dead Boots have a new video for their hot new hit "Saturdays" that appears on their forthcoming album Verónica, available to the masses July 16th wherever incredible music is sold. I helped direct the video and even make a couple unstoppable cameos in it to help really take things to the next level in terms of incredible music videos and stuff. In addition to me, the video also features the dudes in the band, golf, pizza, gambling, and sweet lowrider cars. In short, it pretty much has everything. I hope you enjoy it so much. Watch it again and again. And a few times more after that.
Love unlimited,
Dave Hill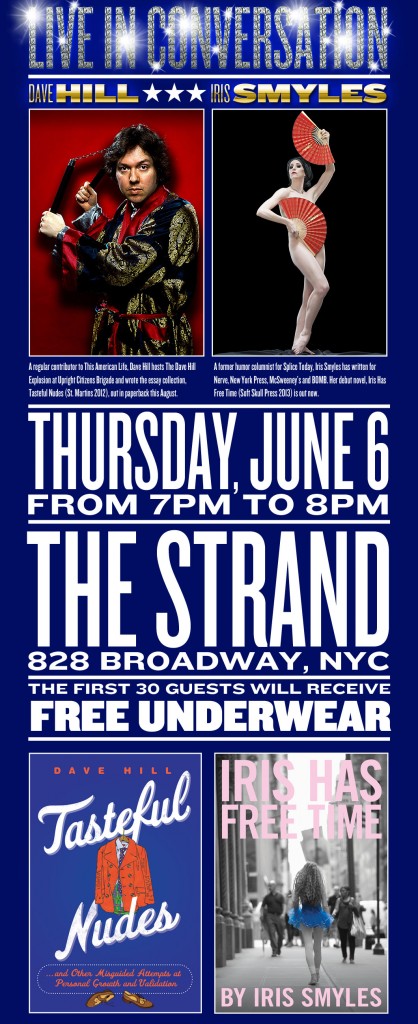 If you find yourself anywhere near NYC this Thursday night, I'll be doing a reading and discussion of my book Tasteful Nudes with the great Iris Smyles, who will be reading from her excellent book Iris Has Free Time, this Thursday at the Strand Bookstore at 7pm. Iris' book just came out and it rules. I am super honored to be a part of this event and I totally want you to come. I will sign your butt and then afterward we can go hang out in your apartment or something. I don't even know.
Thanks,
Dave Hill