Recently, I had the pleasure of joining the great Bridget Everett and her band the Tender Moments on stage at Joe's Pub here in New York City. We performed the Paul Williams classic "I'm Going to Go Back There Someday" and we pretty much nailed it. Not a dry seat in the house. Fortunately for future generations, somebody taped the whole thing and now you can watch it over and over again above. I hope you enjoy it so much. And, hey- you take care of yourself, okay?
Love,
Dave Hill

What with me being a man of the times and all, I recently made an appearance on the lovely Sherry Parnes' new Louder Than Bombs podcast, on which comedians talk about music and- at least in my case anyway- a bunch of other completely random stuff, too. Because I ramble so much, Sherry split my episode into two parts. You can listen to both right here. I talk about the Stones, Zeppelin, Scandinavians, and more. In short, there is something for everybody here unless, of course, you hate all the stuff I just mentioned. Anyway, I hope you enjoy it so much.
Love,
Dave Hill
As many of you know, my buddy David Rakoff, one of the funniest and most brilliant writers ever, died this past August after a long battle with cancer. Somehow in the midst of all that, he managed to finish yet another wonderful book, Love, Dishonor, Marry, Die, Cherish, Perish: A Novel, available everywhere (you know, where books are sold) this July. Above is a great trailer for the book featuring David, Ira Glass, Jackie Hoffman, Calvin Trillin, Jodi Lennon, Bruce McCall, and a bunch of other folks, including me, Dave Hill, from before. I hope you enjoy it so much. And the book is beyond great. Get it.
Thanks,
Dave Hill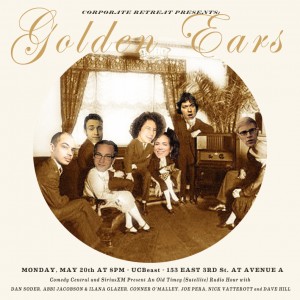 If you find yourself in scenic New York City, come by UCB East for Comedy Central's Corporate Retreat, a show that I am totally on. Info on the flyer above. Just click on it and wait for the magic.
Holy Diver,
Dave Hill

Hi. It's Dave again. You know, from before. Anyway, as the new Valley Lodge album marches toward completion, I wanted to continue sharing a song or two along the way. To that end, here is another one called "Kiss Me, I'm Drunk", which is one of my favorites from the new/third/as-yet-untitled album. I hope you enjoy it so much.
Love and Reasonable Light,
Dave Hill
Hi. This is your man Dave writing to let you know what Episode 72 of Dave Hill's Podcasting Incident is up in your grill now, dammit! Join me as I sit down with comedian and writer H. Alan Scott to talk about his bout with testicular cancer, wild nights in a Berlin dungeon, whether or not Hitler was gay, tough talking urologists, what it's like walking around with one nut all the time, comedy, his #chemocation project and much, much, much (much) more. I also answer important listener questions and Ian Ball delivers the Hot Jamz from London. You can listen to the whole thing right here. That would be so great.
Love,
Dave Hill

Recently, my friend Brad Steuernagel, one of the funniest dudes I know, had me on as a guest on his alter-ego Fred "The Goose" Knockenbach's "hot" new podcast, The Goose is Loose. Watch a man on self-destruct right now above. He seriously loves cocaine.
Your man,
Dave Hill