Episode 66 is here and it's so incredible you'll probably have a seizure or something. Close the blinds and take that phone off the hook as I sit down with comedian and rapper Rob Cantrell to tear into topics including but not limited to old school hip-hop, new school hip-hop, popping, locking, popping and locking, mind power, sandwiches, the hit movie "Beat Street," his new web series "Universally Speaking", and about 500 other things most people can't even handle properly. I also bring you up to speed on my gravity-defying trips to Arlington, Copenhagen, and Portland, answer questions from you, the incredible listener, check in with my secretary Shaina Feinberg, and yield the floor to Ian Ball as he delivers the Hot Jamz from London. You can listen to whole thing right here. And be sure to catch up on other recent awesome episodes here! Okay, great, thanks. These are my demands.
Love,
Dave Hill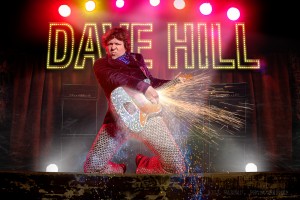 Speaking of sweet art, awesome photographer Bill Wadman recently invited me to his studio to totally take a photograph of me and here is what he came up with above. I couldn't believe he lugged all those amps and stuff in there and don't even get me started on my name in lights, but I am super pumped about the whole thing in general even though my hand is still badly burnt from all that heat. Check out more of Bill's awesome photos here.
Still ill,
Dave Hill

Awesome illustrator Pablo Iglesias made a couple really cool images based on my incredible book Tasteful Nudes, which you may have heard me mention a few times before here and there over the past few months. You can check them out on Pablo's tumblr page. And check out some more of Pablo's awesome work on his website. Thanks for the sweet and sexy illustrations, Pablo!
Still street,
Dave Hill

Because I am a ridiculously famous person, I was recently asked by Time Out New York, the popular magazine, to be a part of their popular "Why notable New Yorkers think NYC is the greatest city" thingy that they did along with people like Mike Bloomberg (the mayor!), Matt from Matt and Kim, and a cavalcade of other ridiculously famous New York City residents. My family is really proud of me. There is talk of inviting me to one of the holiday get-togethers and everything. Anyway, you can check it out here and read what important thing I have to say by scrolling through and clicking on my picture right here. I hope you enjoy it so much. Okay, thanks. Have a great, great day.
Still street,
Dave Hill