Archive for February, 2013

Hi. Do you live in or near Boston? Oh, great, because this Saturday I will be performing with the legendary Janeane Garofalo at the legendary Wilbur Theatre, a classy joint and you can ask anyone. I am going to talk and shred a bunch and then Janeane is gonna come out and talk and be awesome and hilarious as usual. Afterwards, I will be signing books, butts, boobs, or whatever. Also, I am staying at your house. In short, this is going to be a really special evening. You can and should get tickets here now or I will completely lose it.
Love,
Dave Hill

Attention People of New York City:
Hello. This is your man Dave Hill writing to let you know that THIS THURSDAY, February 28 at 9:30pm at the Upright Citizens Brigade Theatre over there in Chelsea, I will once again be putting on a public display of my one-man asskicking machine known in family papers and also my Craigslist casual encounters ad as the Dave Hill Explosion. When I was a little girl growing up in Austria, everyone told me I was crazy for thinking I would one day be putting on a show in a basement in New York City and charging five dollars for it, but look who's laughing now. I am. I am laughing now. A lot. Sometimes it happens late at night and my neighbors get mad and tell me to stop smashing plates against the wall and stuff and then they get all "Hey, what's that smell?", but screw them- I'm not letting them crush my dreams either. Anyway, my show this Thursday is going to be really, really incredible. Not only did I just buy a new snow machine that is supposed to come in the mail today, but my bearded sidebitch Phil shaved his head and it looks nuts. Between that stuff and the candy I am planning on handing out at some point, well, there's your five bucks-worth right there. As if all of that is not enough, I will be joined on Thursday by the lovely and talented Kristen Johnston, whom you no doubt know as the star of the hit television program Third Rock from the Sun and also as the author of the best-selling memoir Guts. Also, my hot rock band Valley Lodge will be performing because I am in charge of booking. Besides, we are the best. You can and should get tickets for THURSDAY'S show right here. And if you don't have a nice time you can kick me right in the clangers. I stand behind my art. A lot.
Still street,
Dave Hill

Hi. If you, like me, would like to spend part of your day watching and reading stuff about me, you have just hit a street called Easy because I appear in the new webisode of Geocachers, a show I will let them explain because I am too slow to understand. And then, if that is not enough, the lovely Vanessa Pinto wrote a story about me for Huffington Post that you can read right here. Okay, that about covers it for now.
Stay hydrated,
Dave Hill

Hi. How are you? I'm pretty decent. Excellent writer and general asskicker Dana Drori recently interview me for Bullett Magazine and now, thanks to the magic of the Internet. You can read the interview right here. Do it! Also, photo above by Mindy Tucker.
Still street,
Dave Hill

Valentine's Day is this week and everyone is really, really excited about it as always, you know, cuz of the sex. My friend Brendan Colthurst and I did a restaurant guide video for New York Magazine, which is reputable. Don't watch it at work unless your employer doesn't give a crap about anything basically.
Love,
Dave Hill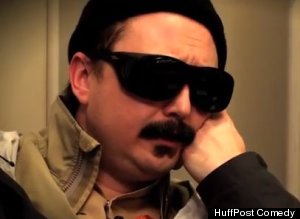 Because I am a major, major celebrity, I was recently asked by the Huffington Post to host a new web series called "Stallin' with Dave Hill" (I got them to work my name into the title. It's in the contract!) in which I hang out in a ladies restroom and interview people. In short, it pretty much has everything. My first guest is the great John Hodgman. You can watch the whole thing right here and also read some stuff. Do it. Now.
Still street,