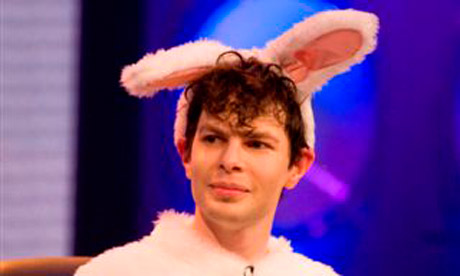 Dave Hill's Podcasting Incident celebrates its two-year (or thereabouts) anniversary by sitting down with UK comedian Simon Amstell on the eve of his American Invasion and the debut of his new live show "Numb" in New York City. Pull your loved ones close as Simon and I have a delightful conversation while struggling to understand each others' accents. Apologies for slightly weirder than usual audio in this episode. I mean, don't get me wrong, you can hear everything- it's just got some extra character and room noise. You can and should listen to the whole thing right here.  Okay, great, thanks.
Still street,
The Olympics- am I right?  Anyway, as many of you are well aware, I am one of the greatest athletes of all-time.  Keeping that in mind, BBC-America (the popular television network) sent me over to London (the popular town) recently to train like the wind with some of the world's greatest Olympic athletes and coaches.  And while they may have trained me, I basically schooled all of them in the process.  You can watch videos of me playing rugby, boxing, riding horses, doing gymnastics, rowing, getting hammered, and so much more right here on BBC-America.  I hope you enjoy it so much.
Yours in fitness,

Dave Hill's Podcasting Incident is back like a rash with Episode 41. Get ready to have your ass handed to you as "30 Rock" pretty thing Scott Adsit and the lovely and talented Sandra Bauleo totally come over to my house to hang out and talk about topics including but not limited to happy endings, show business, getting hammered, the Robin Byrd Show, and other topics of great importance. You can listen to the whole thing right here. Oh, and it would be super great if you could subscribe to my podcast on iTunes and rate it and review it and stuff, you know, if you want.
Love,
Dave Hill
Last week, I went to see Def Leppard, Poison, and Lita Ford and it was so awesome I wrote an important review of it on Brooklyn Vegan.  You should totally read it if you like sweet reviews of stuff.
High 'n' Dry,
Dave Hill

Recently, I saw the hit movie "Children of the Corn," a movie that is like 28 years old or something. Anyway, after I watched it, I wrote a review of it for Vice, the popular website and magazine. You can and should read it here.
Still street,
Dave Hill
Speaking of videos, in all the craziness and mayhem of late, I somehow never got around to posting this here, but above is a sweet video I made with the great Ken Webb. It basically involves me talking and shredding on stage at the Bell House in Brooklyn. In short, it pretty much has everything. I hope you enjoy it so much.
Love,
Dave Hill
Dave Hill's "Tasteful Nudes" Animated Music Video from Danielle Velarde on Vimeo.
Hi. It's Dave again. Remember how not too long ago I made a sweet music video about my book Tasteful Nudes with my friend Keith Aumont Goldberg? Oh, great. Well, anyway, now the amazing Danielle Velarde has taken our video to the next level, given the finger to that level, and then continued on past like ten more levels after that by totally animating our video with all sorts of cool stuff that most people can't even handle. You can (and should) watch the whole thing above. I hope you like it so much. I know I do. Danielle rules.
Still street,
Dave Hill