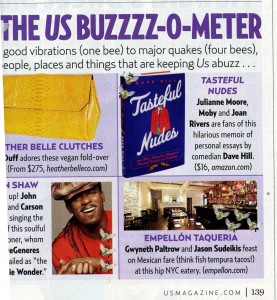 Hi. It's Dave, from before. As I may have mentioned, my book, Tasteful Nudes, is finally and totally out and available wherever incredible books are sold. I know, I am pretty excited about it, too. What's also nice (or annoying depending on how you look at it. I am hoping you think it's nice! What is your problem?!) is that I've gotten all sorts of nice reviews, writeups, and/or lovely mentions about my book in magazines, newspapers, and on the Internet and stuff. On the "print" front, Vanity Fair, Nylon Magazine, US Weekly (pictured above), New York Daily News, the New York Times, and a bunch of other sweet folks have been super nice to me about my book. And on the Internet, the Today Show blog, Thrillist, Rookie Magazine, Vice, Huffington Post, Comedy Rants, Rushfield Babylon, the Hairpin, Impose Magazine, Brooklyn Based, Splitsider, What We Like NYC, Time Out New York, the Laugh Button, Words Music Baseball, XO Jane, the Spittake, Metro, Laughspin, and then some others ones besides all those I just mentioned have all been super sweet about me and my book. Nice, right?  More to come soon!

Here's something nice- the New York Daily News' Gatecrasher section totally talks about me and my book today. This all happens on the same page as stuff about Anna Wintour, S-Jess, Coco, A-Rod, and other noteable noteables. You can read the whole thing right here. Also, my book get a great mention in this week's US Weekly. Sweet. Okay, I'll shut up now.
Thanks,
Dave Hill

Attention World Citizens:
Hello. This is your man Dave Hill with the most important blog post ever written. My first book, TASTEFUL NUDES, is OUT TODAY via St. Martin's Press. Let's just cut to the chase and stuff- I want you to BUY IT (preferably TODAY so I can hit some bestseller lists). You can get it at your favorite book store or by going to my Amazon page.
Please encourage everyone you have ever known ever to do the same or I will totally freak out. My book has already received advance praise from Vanity Fair, Time Out New York, Nylon Magazine, BookList, and Penthouse (I know, right?) among others, as well as from people like Ira Glass, Malcolm Gladwell, Chris Elliott, John Hodgman, Sandra Bernhard, Andy Richter, Janeane Garofalo, and some other people who are totally right about everything.
Also, if you are in NYC, you should totally come to these book events I have this week. They are:
Wed., May 23, 7pm- McNally-Jackson, 52 Prince St. Dave Hill in conversation with Ira Glass. Reading/Signing/Q&A/Makeout Party

Thurs., May 24, 8pm- Bell House, 149 7th St., Brooklyn- Book Release Blowout with me, Janeane Garofalo, John Hodgman, David Rakoff, TAB the Band, Doug Gillard Band, and my hot rock band Valley Lodge.
Also, here are a couple sweet videos I made about my book that you can watch again and again if you want.
Okay, that about covers it for now. Did I mention you should totally BUY MY BOOK? Sorry, I meant to mention that. Anyway, you can do that here:
I love you so much it's actually kind of weird,
Dave Hill
Hi.  How are you?  I'm incredible.  Thanks so much for asking.  Anyway, I just wanted to remind you that one week from tonight, which is to say Wednesday May 23 at 7pm, This American Life host Ira Glass and I will be storming the McNally-Jackson bookstore in New York City to celebrate the release of my sweet ass book Tasteful Nudes.  Here's the deal, goddammit: First, I will totally read from my book.  Then Ira and I will sit down and talk about me and my book as well as other things related to me and my book.  We will use a lot of profanity.  Then we will take questions from the audience, especially the sexy people.  After that, I will totally sign the fuck out of my book for people, even if they don't want me to.  Then we can all go get hammered or something.  Are you in or what?  Yeah, I thought so.  See you there.
Still street,
Hi.  As hinted at in the subject line, my incredible book Tasteful Nudes is out one week from today.  I know- I can't believe it either.  Early reviews suggest that my book is pretty f@#king sweet in general, which is to say, you know, like, seriously excellent.  I hope you will join me in totally making it a national bestseller.  You can do your part by ordering it right here.  Okay, thanks.  That about covers it for now.
You seem nice,
That's right, dammit- Episode 40 of my incredible podcast is here.  This time around I go toe-to-toe with master comedian, storyteller, and thinking man Tom Shillue. Take that phone off the hook as Tom and talk hot yoga, barbershop quartet groupies, parenting, and about 500 other things most people can't handle. Also, a brand new listener submission and, of course, Ian Ball's Hot Jamz. Listen to the whole thing right here, right now. And in case you missed Episode 39 with the great Joe Mande, it's right here.
Still street,
When I was in Portland, Oregon a few weeks ago for the Bridgetown Comedy Festival, I sat down with comedian Dan Duncan for a "Spicy Interview." The premise is simple and painful- at the beginning of the interview, both the interviewer and the interviewee eat a raw habanero pepper. I'm not sure why I agreed to this. And yet I'm oddly glad I did. Also, my butt still hurts. Anyway, I hope you enjoy it so much.
Love,
Dave Hill
Remember how I already made the best book trailer of all-time with my music video for my forthcoming book Tasteful Nudes?  Yeah, well I made another best book trailer of all-time, this time around with my close personal friends Malcolm Gladwell and Dick Cavett.  Brace yourself- this one pretty much has everything, too.  Oh, and as long as I'm talking about my book, here is a great review of it by Richard Rushfield.  Thanks, Richard.  And thank you.
Still street,
As rumored in the Scandinavian press, my book Tasteful Nudes is coming out in just two weeks (that's 14 days!) on May 22, 2012 A.D.  I know, I can't believe it either.  As you can probably imagine, I'm pretty excited/nervous/borderline violent about the whole thing.  I've already planned a bunch of tour dates as part of my Tasteful Nudes assault on America, but last night, in a fit of ecstasy (or maybe I was just hammered.  I'm not sure), I had an idea.  That idea is this: I, Dave Hill, will do a book reading for you and your friends in your home.  Dangerous?  Maybe.  Awesome?  Definitely.  Here's the deal:
Drop me a line at dave@davehillonline.com telling me where you live (you can leave out the actual address for now) and why you think it would be a totally awesome idea for me to totally show up at your home and do a book reading (Yes, it has to be a reading from my book.  I gotta maintain some dignity here) that will also include book signing, light chitchat, and hopefully a fair amount of binge drinking and maybe a cheese plate or two.  If we both agree it's a seriously good idea that we can totally make happen without any harm to you, your loved ones, or- most importantly- me, I'll totally do it.  I am going to do FIVE house readings in North America in total, so be sure to tell me why I should totally come to your house.  It's not necessarily a contest, but it's not not a contest, if you know what I mean.  Don't be afraid to use profanity if you feel it's necessary.  And, in case you're wondering whether this is some sort of goddamn joke, let me assure you I am serious.  Deadly, DEADLY serious.  I want to come read my book at YOUR HOUSE!
I look forward to hearing from you,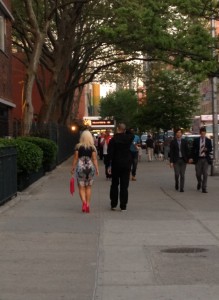 I probably shouldn't even have to tell you this, but Ice Loves Coco.  Ice loves Coco so much, in fact, that they even made a TV show about it.  It is called "Ice Loves Coco" and it is the best show of all time and you can ask anyone.
In case you have been living under a goddamn rock since basically forever, the Ice I am referring to here is Ice-T, the popular rapper, actor, and star of the hit television program "Law and Order: Special Victims Unit", on which he plays Detective Odafin "Fin" Tutuola, a tough-talking cop who isn't afraid to tell it like it is, not even a little bit.  Sometimes people confuse Ice-T with Ice Cube, another popular rapper and actor.  These people are known as assholes because those two guys couldn't be more different.  For starters, Ice Cube was in the hit movie "Anaconda," which was about some dumb snake, and Ice-T has a huge penis, something this reporter read on the Internet while researching this story.
As for Coco, she is Ice's wife and also has huge boobs.  Also, Coco's parents met on the set of the hit television program "Bonanza," a show we still talk about to this day.  Coco is also a model and has a huge ass, which is great for me and Ice too, I imagine.  Coco is basically the polar opposite of Ice-T and if someone would have told me ten years ago that Ice and Coco were going to wind up together, I would have laughed them out of the room and also told them to go fuck themselves.  But then it happened and I was forced to reevaluate the world around me as well as my place in it.  And when I heard that Ice indeed loves Coco, well, don't even get me started.
"Sure, Ice likes Coco," I thought.  "But love?  I'm not so sure about that."
But then I saw my first episode of "Ice Loves Coco" and it erased all doubt in my mind.  In fact, I can say with utmost confidence as of this writing that Ice loves Coco so much it's actually kind of weird.
I realize there are probably a few naysayers out there who think Ice only loves Coco, not the other way around.  But guess what- it's a two-way street.  Coco loves that crazy son of a bitch.  On this one episode, Coco got an offer to star in a movie but didn't want to do it because it would mean she'd have to be away from Ice for two months straight.  But when she told Ice, Ice was all like "Hey, baby, I'll miss you but you should totally do that movie."  It was like "The Gift of the Magi" or something.  I couldn't believe it.
Do Ice and Coco ever have bad days?  Of course.  We all do.  But here's the difference- they get through it and the next thing you know Ice will just be like "I love you, Coco" and Coco will be like "I love you, Ice" like whatever bullshit Coco just pulled never happened.  In short, they just can't stay mad at each other.  I can only hope Jennifer Aniston watches "Ice Loves Coco" so maybe she will learn something and won't have to bounce around from man to man like a goddamn oversexed pinball and force me to worry about her all the time.  Get it the fuck together, Aniston!  You're getting too old for this shit!
I had an idea for an "Ice Loves Coco"-themed beverage called Ice Loves Cocoa.  As hinted at in the name, it would be for a hot chocolate.  In the commercial, Ice could wake up in the middle of the night, sneak into the kitchen, and make himself a cup of delicious hot chocolate.  Then, just as he's about to take a sip, he stares into the mug and says "Ice loves Cocoa."  Then Coco shows up in the doorway and says "Hey, wait a minute!"  Then Ice could be like "Don't worry, Coco, I made some for you too."  Then Ice would give Coco his cup.  That's just how he is.  You could put their dog Spartacus in the commercial too.  He could just sit there and have one of those "Hey, what about me?" looks on his face that dogs get sometimes.  It would be great.  I don't even want any money for this idea.  Ice and Coco, if you are reading this, you can have that idea for FREE.  Just promise me you'll save me some cocoa.  Haha.  I am kidding.  I am happy to buy my own.  When I get to the checkout, though, I am going to say "This was my idea!"  Haha.  I am kidding.  I probably won't.
Speaking of Ice and Coco, a couple weeks ago, I was out for a bike ride when suddenly, from out of nowhere, Ice appeared right in front of me in the bike lane, like a goddamn apparition.  He had apparently just parked his car (A Rolls-Royce.  What- did you think he'd be driving some piece of shit or something?  Yeah, right) and was making his way to the sidewalk in the really cool Ice-T kind of way you are probably imagining right now.
"Where there is Ice, there is Coco," I thought as I tried to pull myself together.  Then sure enough, I saw Coco walking just a few feet away, right behind Ice and looking even more beautiful in person than she does on the hit program "Ice Loves Coco" and also with a huge ass.  It was in that moment that I realized that Ice had instinctively placed himself between me and Coco.  I would never claim to be a great bicyclist, but I am definitely a good bicyclist.  Still, there was no way Ice could have possibly known that, which is why he took it upon himself to rule out the possibility of me accidentally crashing right into Coco without even thinking about it.   Of course, this was just one more reminder to me that, just when I think I've got Ice and Coco figured out, they'll send me back to the drawing board with some new expression of their love.  It just doesn't stop with them.
Naturally, when I saw Ice and Coco, I wanted to say "Hey, Ice!  Hey, Coco!" to them, but instead I found myself suddenly unable to speak, silenced by my brush with Ice and Coconess.  Instead, I just sat there on my bike as they faded into the distance, like two gunslingers from the Old West, one of whom seriously has one of the biggest asses I've ever seen.  It was awesome.  Above is a photo I took of Ice and Coco as they were walking away.  That's Coco on the left.
I probably shouldn't be telling you this, but sometimes I think I love Coco, too.