Life.  Will we ever truly understand it?  Anyway, I forgot to post about this before, but there are two new episodes of my incredible podcast up and available for your listening pleasure and stuff, Ep. 37 with comedian/psychologist/superfox Nikki Walter and Ep. 38 with my secretary Shaina Feinberg.  You can get them from iTunes or by going here.  I hope you enjoy them so much.  Also, I am trying to get back on track and release a new episode every week, so brace yourself.  Or something.
Still street,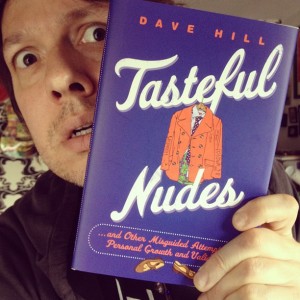 I don't know if I've mentioned this yet, but I have a book coming out, like, really, really soon (May 22). As you can probably imagine, I am alternately excited, nervous, borderline suicidal, and occasionally even aroused at finally reaching this milestone in my so-called life (You know, like the television program). I am not one of those "bucket list" people (You know, like the popular film), but if I were, I guess getting my own fancy hardcover book unleashed on the masses would be on there, which pretty much leaves getting one of those big, fluffy Newfoundland dogs as the only thing left that I would really like to see happen before I am dead and mostly gone. The rest is just gravy and- hopefully- sex.
I hope to have a Newfoundland update for you one of these years soon, but in the meantime, back to my book. A couple days ago, an actual copy of my book showed up at my house via short, mumbling messenger. After all that typing, screaming, crying, and arguing over what would end up on the cover (I ended up drawing that stuff!), it was pretty sweet to actually hold a copy of my real book, the exact same version I am hoping millions and millions of people will spend their cold hard cash on May 22 so that I might never have to troll the Port Authority restrooms for a quick buck again (Also, I'd be thrilled to be able to totally write another one, so there's that).
As you can see from the photo above, my book is really classy. The cover has a tasteful matte finish except for the title and drawing, which both have a glossy thing going on that only serves to make the book even that much classier (so much, in fact, that I am hoping even women of a certain station will read it). I know- I can't believe it either. Also, it's a convenient size that you can throw in a backpack, messenger bag, purse, holster, or whatever and totally read it whenever you want. As best I can tell, you could probably bang it out on a round-trip flight from New York to Los Angeles (or some other flight that takes about that long- I'm not picky) or during a couple days spent in jail (I am factoring in interruptions here).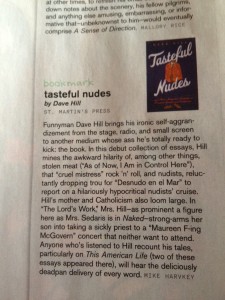 It is at this point that you are probably wondering whether my book is incredible or not. I'm glad you asked. Today, I happened to pick up the latest issue of Nylon magazine and- what do you know- they totally reviewed my book and basically said it is incredible. I have included a cell phone picture of the review above. I realize maybe I should have gone ahead and re-typed the whole thing and included it here, but that struck me as desperate for some reason. And as you can clearly see from this post and any others where I may or may not have mentioned my book Tasteful Nudes (out May 22), I am so not desperate it's actually kind of weird. Oh yeah, you can pre-order my book here.
Happy Friday,
Dave Hill
Mondays, am I right?  It's cold, damp, and gray in New York City today and- for the most part- so am I.  I am coming down from an action-packed weekend of mostly just sitting there putting things (food, I mean.  Get your mind out of the damn gutter!) into my mouth while doing my best to avoid assorted existential crises and get some important, important errands done while I was at it.  Now it's Monday and I am showing up for life again, which so far has consisted of mostly just sitting here some more and putting stuff into my mouth again (food, still), albeit healthier choices, you know, since it's Monday (on the weekend, I live without rules.  Ask anyone).
In addition to the jaw-dropping details above, I also spent part of this past weekend reading "Drinking at the Movies," an excellent graphic memoir by Julia Wertz, who was kind enough to totally send me a copy in the mail to my house where I live.  The book is about Julia's first year in New York City after moving here from San Francisco and it is packed with great drawing and writing on every page.  Julia also sent me her book "The Fart Party," which I haven't read yet but am excited to, you know, because it's called "The Fart Party," at title that pretty much fires on all cylinders.


In other news, in exactly four weeks and one day, my book that I won't shut up about will be unleashed on the masses.  As you can probably imagine, I am on the verge of a seizure in anticipation of this profound literary event.  I got a great review on Booklist, the reputable resource of incredible book reviews, which is both calming me down a bit about things and also adding to my seizure potential.  And, oh, what the heck, as long as I'm talking about it, here is the review right here:
"Comedian Hill trades in mock braggadocio, following each punch with a tickle. To wit, "Scar or not, I realize at this point in my book there's probably no question in your mind as to whether or not I'm one of the biggest badasses that ever walked the face of the planet. (Author's note: I am.)." Over the course of these 17 short autobiographical essays, the rhythm grows familiar enough that it could become cloying, but it doesn't because Hill is just so funny, observant, and likable. Whether he's riffing on adolescent affairs of the heart ("Loving You Is Easy Because You Live Pretty Close to My Parents' House"), the thrill of playing Santa Claus ("Northeastern Ohio Velvet"), or his brush with rock 'n' roll stardom ("Big in Japan"), Hill has a knack for hitting the high points, eliciting some laughs, and then offering a poignant twist that reminds the reader there's no two-drink minimum. Essays about depression ("A Funny Feeling") and his mother's death ("Bunny") treat their subjects humorously without being glib. Well worth a read." —Keir Graff, Booklist
Wasn't that nice?  Yeah, I was pretty pumped about it too.  And I swear I didn't devise this entire blog post just so I could copy and paste that.  I mean, sort of, but not really.  I also wrote it so I could casually mention that you can read the first chapter of my book right here.  I apologize for the lack of apostrophes.  Not sure what that's about, but someone somewhere is going to get a stern talking to about it very soon.  That much I can tell you!
Okay, that about covers it for now.  Time to put on some pants and tear the world a new one I guess.
Still crunk,
Dave Hill
Hi. How are you? Really great, I hope. Anyway, I just wanted to let you know that I am on this week's episode of CBC radio's Wire Tap, the incredible program brought to you by the great Jonathan Goldstein. Jonathan was in NYC recently and I sat down and told him all about my exploits as a pedicab driver. You can get more info, including when and where it's airing in your town and how you can also download it from iTunes, here. This is a great show already and now I am on it so don't even get me started.
Thanks,
Dave Hill

Here is something nice. Remember how I made the most incredible music video for a book of all-time? Okay, great. Well, anyway, the delightful Helen A.S. Popkin wrote a lovely piece about it for the Today Show website, calling my book trailer music video the "Best music video for a book you will ever see. Ever." You can read the whole thing right here. You can watch the video there too. Oh, and you can pre-order my book here, you know, if you want (HINT: Yes, you do).
Still street,
Dave Hill