Archive for February, 2012

Attention People of London, England (or Thereabouts):
By the time you read this it will be too late, I will already be on a plane to your town, where I plan on bringing the heat for five or six days straight whether you like it or not. I will be doing sets all over town (full details coming any second now), but the main concentration of my heat-bringing will take place March 2nd and 3rd at Deansway's, the scorching-hot new comedy club located right there in Bethnal Green, the classiest part of town. I will be doing my internationally-acclaimed Dave Hill Explosion chat/variety show that most people can't even handle both nights. Get tickets here. If you come, I promise to give you the show of a lifetime and/or try to make out with you. I mean, hey- why not?
Still street,
Dave Hill

On December 17, 2011, I lost my best friend KJ. In his memory, I ended up writing a few tweets about the whole thing. Here they are now, all in one place, for your reading pleasure and/or displeasure. They are in reverse chronological order right here.. Start from the bottom or start from the top. It's up to you. Just promise me you'll think about my little buddy. Miss you, boo.
Love,
Dave Hill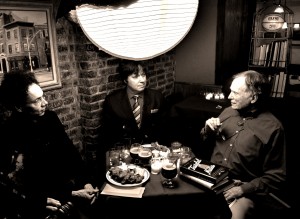 As I may have mentioned very casually and discreetly a few times here and a few other places, I have a book coming out on May 22. I am extremely excited/nervous/parnoid/suicidal about it. I have wanted to write a book most of my adult life and then I went and did it (sooo much typing- seriously you wouldn't believe it). Now it is set to be released to the masses via a real publisher and everything (They even paid me money to write it! I know- I can't believe it either).
Of course, in order to help make my book one of the bestselling books of all-time, I am doing all sorts of things to hopefully subtly convince people that they should probably buy a few copies for themselves and their loved ones. For starters, I am in the process of shooting a couple book trailers to promote the f@#k out of the book. Above is a still from an incredible video I shot the other day with my friend Gary Nadeau. That's Malcolm Gladwell, Dick Cavett, and I chatting and enjoying chicken wings, Irish coffees, and shrimp cocktail (well, I did anyway) in the back of Tavern on Jane, something we do at least once a week when we're all in town. The video of this will be unleashed on the masses soon. Yeah, I know- I can't wait either.
In addition to eating shrimp cocktail with fellow bestselling authors, I have also been gathering blurbs for my book that will appear in as many places as possible so as to- again- hopefully subtly convince people that they should probably buy a few copies for themselves and their loved ones. I realize this is shameless of me, but I thought I would go ahead and share what I've go so far with you anyway while I find myself a change of pants. I hope you enjoy reading them even half as much as I do:
"This book should affirm Dave Hill's rightful place as a major American humor writer. You will laugh. Buy two and brighten a friend's life as well."—Dick Cavett
"Not only did Tasteful Nudes take me on an emotional journey through the seedy underbelly of Dave Hill's life, but it also introduced me to a whole new slew of colorful and imaginative euphemisms for my pud. For this, I shall forever be in Mr. Hill's debt."—Chris Elliott
"We have Dave Hill on our radio show as much as we can because he's so winningly funny, and it's thrilling to see how well his sense of humor translates to the page. I've never seen a comedian quite like him: full of unjustified bravado, but also amazingly vulnerable. There's something very bare through all these stories that are so full of jokes and brags. He's a rocker who shreds his way through mindblowing solos while somehow also communicating to you that maybe he thinks the whole thing is just a little much. I don't say that as a metaphor, I've actually seen him do this. I enjoyed the hell out of this book."—Ira Glass
"First of all, Dave Hill is a pathological liar, a fantasist, egoist, and unlicensed podiatrist.  I cannot confirm the veracity of anything in this book, but my feet have never felt better.  And as Dave always says, when you have your feet you have everything."—Janeane Garofalo
 "I run into Dave Hill all the time at the coffee shop in our neighborhood. He's always unshaven and badly hungover, with some 16-year-old groupie from Cleveland in tow—and he's just as funny then as he is in Tasteful Nudes. He is my idol."—Malcolm Gladwell
  "If you want to get inside Dave Hill's head then you have to go for it.  Throw caution to the wind.  Jump into the icy waters.  Speed across the Bonneville Salt Flats.  Trek the Himalayas.  Take a solo flight around the globe.  Or just read his new book, Tasteful Nudes, the most dangerous way to get there."—Sandra Bernhard


"Dave Hill speaks, rocks, and now writes with a voice so powerful and funny and compelling that I'm pretty sure he's channeling some weird god from another dimension. Basically, this dude is a comedic Cthulhu, and when you read this book, you will either go COMPLETELY MAD or BECOME A SLAVE TO HIS MAD GENIUS. Pray for the latter."—John Hodgman
"This book, in addition to being a hilariously fun read, is exactly the kind of book that will get Dave Hill totally laid."—Andy Richter
Thank you,
Dave Hill
As you can you probably imagine, I am most at home when at sea (even though the sea can be a cruel mistress and am basically tired of her bullshit at this point in my life). I love the water, the boats, clam chowder, and, of course, the outfits. Keeping all of that in mind, I recently attended the New York Boat Show over there at the Jacob Javits Center, a great New York hangout spot. My friend Miles Kahn and I made a video of the whole thing and now you can watch it over and over again over via the popular Funny or Die website. I hope you enjoy it so much. Oh, it already got a nice writeup on Huffington Post, the popular website. Okay, that about covers it.
Still street,
Dave Hill

My friends over at Metal Injection are celebrating Black Metal History Month, so I did my part by listening to some new black metal bands and explaining to everybody where they went horribly wrong. Basically, I school people all the time without even really trying and this is just one more awesome example of that.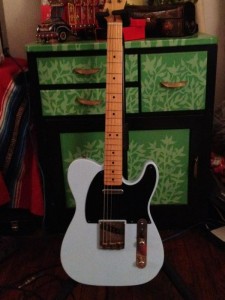 If there's one thing I've learned about myself in this life, it's that I can't stop rocking. As part of this affliction, I am constantly on the hunt for sweet guitars (or axes as they are known by us rocker types) that will aid me in my quest to melt faces whenever possible. Since I'm not Liberace (a man without limits) or anything, I have to keep things under control and just can't let any old axe into the arsenal. As a result, I decided to let one go recently so that I could make room for the sweet axe pictured above. It is made by a company called LSL Instruments and it is their T-Bone model, which is pretty much like a sweet Telecaster from the '50s only it was made in modern times. In my youth, I always shied away from Telecasters because no one in Ratt ever played them, but as I grow older, I have come to appreciate their sexy ways. My friend Tim hipped me to this particular brand, so I went and played a big pile of them in New Jersey and ultimately decided to buy the one above because the blue color goes really great with my eyes and also most of my outfits. I haven't unleashed this guitar on the masses yet, so I really don't know what its IPR (Instant Panty Remover. My friend Patrick taught me this the other night. It's very classy) quotient is just yet, but I have a feeling it's pretty high. I myself have removed my underpants in the presence of this guitar several times since it has started living with me at my apartment. Also, it goes really well with the cabinet behind it, so there's that too. In short, I'm pretty excited about it. More as this story develops.
As many of you who have been following my career from the very beginning are well aware, I spilled a large Coke on my laptop last month, an incident that ended up frying my computer, hurting my feelings, and stopping many of my regular futuristic activities in their tracks, including the production of my incredible podcast. Now, $2500 and lots of swear words later, I have a new computer with new programs on it and stuff and, as a result, have resumed making my incredible podcast in my spare time. In celebration of all of this, I have recently posted Episode 35 of Dave Hill's Podcasting Incident up on the Internet for all to consume however they feel like. This time around, I sit down with my good friend Walter Schreifels, an unstoppable musician you no doubt know from such bands as Gorilla Biscuits, Quicksand, Rival Schools, Walking Concert, the Walter Schreifels Band, and a lot of other bands besides all those I just mentioned. Pull your loved ones close as Walter and I discuss topics including but not limited to the Yakuza, ham radio, the Minutemen, Nazis, music, and Morse code.  Also, brace yourself for the very first installment of "Your Life is Bullshit" with my secretary Shaina Feinberg, taped live at the Talent Show at Littlefield in Brooklyn. You can listen to everything I just talked about right here. I hope you enjoy it so much.
In keeping with the times (both past as in circa 2004 and also the present times we are living in now), I have started a vlog or "video blog" as it was known in simpler times (2003). Why? Why not? Anyway, about once a week or so I will post a new episode on my YouTube channel and just brace myself for the inevitable mayhem. You can watch episode 5 above and then go back and watch every episode I've done so far here. Okay, that about covers it. Thank you for joining me in this futuristic endeavor from space.

Hi. Remember how a few posts ago I showed you first episode of the new and popular "Brooklyn Comedy Social" web series I did with my close personal friends Gabe Liedman and Janeane Garofalo? Okay, great. Anyway, here is part two of that first incredible episode. Watch it again and again right now.
Still street,
Dave Hill
Recently, I put my incredible acting chops to work for the incredible final episode of "Little Darlings" written by Brian Donovan and Ed Herro and directed by Brendan Colthurst. My co-star in this incredible video is Ryan Karels. We have a lot of wild stories from the set that day. Anyway, watch this video now because you will like it so much.
Love,
Dave Hill