Archive for January, 2012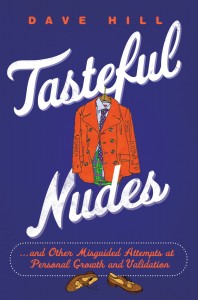 As some of you may have noticed, I keep talking about the fact that I wrote a book.  Seriously, I won't shut up about it.  I spent most of last year writing and rewriting and then rewriting it again until it was finally done and I put my pants back on.  It comes out May 22 via St. Martin's Press, the popular publishing company, and I am excited that I now totally know what the cover looks like and I wanted to show you.  Click on the cover to look at a bigger version if you are into that sort of thing.  I did the drawings of the clothes and the shoes and then the crackerjack design squad at St. Martin's made the rest happen.  I hope you like it and it totally makes you want to buy my book, which- if you want to get a jump on things, you can pre-order now here, here, here, here, here, here, and probably some other places too, I bet.  Get on it!
Love,
Hi.  It's Dave, from before.  I just wanted to tell you that I totally have an all-new "official" Facebook page that you should totally go to and click the "Like" button and then brace yourself for all the excitement to come.  You can make all that happen right now by going here.  Seriously, do it or my feelings will be hurt so much.
Loving you,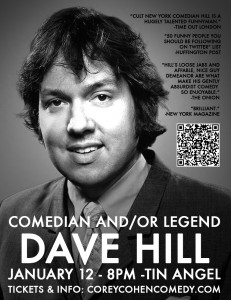 Attention People of Philadelphia (and thereabouts):
This is your man Dave Hill writing to let you know that tomorrow, Thursday January 12, I will totally be showing up at the Tin Angel, which is located right there in your town and giving whoever shows up what will basically amount to the show of a lifetime.  I am even bringing my own snow machine and explosives.  As if all of that is not enough, I will be joined tomorrow evening by the great Nikki Walter and Daniel Eastman.  You can get more info here.  Also, read this exciting interview I did with Philadelphia Weekly here.  I answer all the tough questions.  Okay- see you tomorrow or else.
Still street,

Hi. It's me, Dave, a sexy, sexy man, again. Anyway, last night I participated in a heated debate at Symphony Space on Manhattan's Upper West Side, a classy section of town. The debate was over which is better, Old Hollywood or New Hollywood. I was on the Old Hollywood team along with the great Julie Klausner and Rachel Shukert (also great). Defending New Hollywood were those bastards Gabe Liedman, Gabe Delahaye, and Max Silvestri, who is from out of town. The lovely Jessi Klein moderated the whole thing and afterward they gave us free drink tickets. Anyway, for my part of the deal, I read the following thing I wrote up on how Old Hollywood is better than New Hollywood. It pretty much has everything and I hope you enjoy it a whole bunch:
Hollywood- will we ever really understand it? Probably not. But one thing I can tell you is that basically New Hollywood has been Old Hollywood's bitch for as long as I can remember and probably even longer than that even. Let me break it down for you. For starters, Old Hollywood was Rudolph Valentino, Greta Garbo, John Wayne, Humphrey Bogart, Marilyn Monroe, Audrey Hepburn, Gary Cooper and a whole bunch of other people who had incredible hair, wore great outfits pretty much all of the time, and snorted cocaine that wasn't even bad for you. New Hollywood is Gwyneth Paltrow and people who are not unlike Gwyneth Paltrow. Gwyneth Paltrow is a fucking skank. Some day I would like to rent a large truck, possibly from Uhaul or the Ryder people or I don't even know, and sit parked with it outside of Gwyneth Paltrow's tastefully and cleverly decorated home until Gwyneth Paltrow decides to take a break from updating her stupid fucking Goop website by stepping outside to pluck some fresh basil she just grew on her tree lawn without even really trying. Then, as soon as Gwyneth Paltrow is distracted by a phone call from Bono, Jay-Z or some other bitch, I will step on the gas and drive over Gwyneth Paltrow again and again and again and again until Gwyneth Paltrow's stupid husband the guy from Coldplay comes outside in some dumb Peruvian sweater or something and starts singing that stupid "Clocks" song to try to get me to cry even though it won't work. In Old Hollywood, stars would launch their careers simply putting on a nice skirt and matching top, walking into a drug store, sitting down at the soda fountain, ordering a goddamn soda, and delicately sipping away through a dainty straw until they were plucked from obscurity by the President of Show Business himself and given the classy spotlight they deserve. In New Hollywood, you can become a star simply by giving a half-assed blowjob to Brandy's little brother with the stupid mustache without even bothering to take your gum out first in an Internet video I could barely bring myself to watch more than five or six times all the way through without puking or stopping to check my e-mail. Also, in New Hollywood, you have to join a creepy cult church with spaceships, aliens, and Lisa Marie Presley just so America might possibly be duped into believing you prefer the company of women when it comes to matters of intercourse and other stuff that has to do with the wiener. In Old Hollywood, if you were a man who wanted to know the love of another man, you just grew a cool mustache and entered into a loving long-term relationship with Jim Nabors, star of the hit TV program Gomer Pyle, U.S.M.C., a show we still talk about to this day because it pretty much had everything, even in the last couple seasons when a lot of the plot lines became increasingly hard to believe. Also, in Old Hollywood if you wanted a giant gorilla to scale a building or something, you just got some giant guy to put on a giant gorilla costume, scale a goddamn building and be done with it. You wouldn't even have to buy him a sandwich when he was done or anything and he was cool with it. If New Hollywood wants a giant gorilla or irritable beast of any sort to do anything whatsoever in a movie, they have to lock a dozen 23 year-old, crystal meth addicted design school dropouts in a basement and force them to sit in front of their computers chain-smoking for two years straight just to get to get a giant snake to attack rapper turned actor Ice Cube like in the hit movie Anaconda only it doesn't even look like a real snake and everyone knows it, even small children and the elderly. Also, Gwyneth Paltrow is a skank. In conclusion, Old Hollywood rules and New Hollywood is bullshit and you can basically ask anyone.
Thank you,
Hi. It's Dave again. From before. Anyway, recently I appeared on Todd Bieber's "Animated Stories" show at UCB East here in sunny New York City and told a story about my experiences with toilets in Japan (as I am wont to do). Then Todd got awesome animators Patrick Mahoney and Caitlin Downing to totally animate it. It's nuts and beautiful at the same time. You can watch the whole thing above. Do it or I will come to your home and use your toilet. Gross!
Love,
Dave Hill