Archive for February, 2011

Attention People of Philadelphia (And Surrounding Regions):
Hello. This is your man Dave Hill writing to let you know that I am coming to your town on Saturday, February 26 to perform my critically acclaimed nightclub act over there at Connie's Ric Rac, which is right there in the heart of it. The show starts at 8pm and during it I will be talking, reading, singing, dancing, playing a short video or two, and just sort of standing there seemingly doing nothing at all (even though I will actually totally be doing something) at various points in the show for up to but probably no longer than one hour straight (I tire easily- it's the baboon heart). Afterwards, we can go get a sandwich and- if the mood and blood alcohol levels strike- maybe even make out (NOTE: This will be determined on a case-by-case basis unless I get really, really drunk, in which case I will probably even make out with your pets). Also, there will be snacks and a free kitten given to the first 100 people who attend my show. In short, you pretty much can't lose on this one. I am pretty excited about it. Philadelphia is a can-do town full of can-do people I would like to have intercourse with or, at the very least, give the show of a lifetime (which, in turn, may lead to intercourse). Please come. That would be so great. You can get tickets right here for about the same amount of money as you would pay for a large burrito, side of chips and salsa, guacamole, and two large Cokes (sorry, no free refills). Okay, see you next Saturday. This is going to be so much fun I am going to bring a change of underpants.
Love (the brotherly kind you guys are so, so good at),
Dave Hill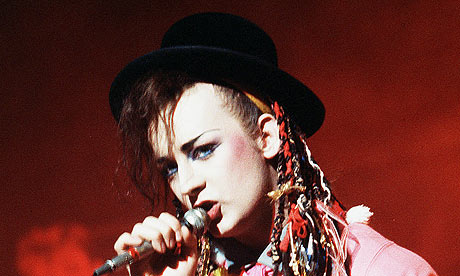 That's right- on this, the 22nd episode of my incredible podcast, I go over to Boy George's house and have a lovely time as we drink tea, eat chocolate, and discuss topics including Culture Club, his new album, loitering outside David Bowie's house, the raw diet, a house guest named Fat Tony who is not really fat, the Joan Rivers movie, being clean, and much, much more. Be sure to get George's new album "Ordinary Alien (The Kinky Roland Files)" available now on iTunes and visit his website for all sorts of Boy George-related mayhem. And listen to the podcast right here or on iTunes.
Love,
Dave Hill

Today I write to you from a laundrette in London. As it turns out, a laundrette is the same thing as a laundromat despite the more glamorous name. Either way, I am excited to have clean underwear in less than an hour from now. I've really been pushing mine to a limit during this European invasion, so it will be nice to have a fresh artillery at my disposal. I think other people will be happy about it too.
I got into London yesterday after returning to Germany to rock those people for a few more nights as the guitar player for the Walter Schreifels Band. We left London after playing at the Borderline this past Tuesday and headed back to Germany after taking a boat across what I tend to think was the English Channel. Once we got to the other side, it turns out we were in Calais, France, one of the towns they have there. Along the way, we stopped off at a rest stop to pull ourselves together after over an hour at sea, a cruel mistress. It was there that we happened upon a roving gang of wild French chickens. First we saw just the one chicken, the leader I think. And then we saw another one. The next thing we knew, we were surrounded by easily a dozen irritable chickens who appeared to be easily given to handing out their own swift brand of justice. You can see a few of them above. Needless to say, we did what we had to do and then got back in the van to continue on to Germany, only narrowly escaping a full-on chicken beatdown.


As awesome a time as we had during our UK rock shows, it was great to get back to Germany as they have maybe the best truck stops in the entire world, full of great food offerings (see above for an example), self-cleaning toilets, and easily accessible pornography. Sometimes I would eat an entire meal at each stop, not because I was hungry but just because it was available to me and it felt weird not to. We debated whether the German-style truck stops would thrive in America and ultimately decided they wouldn't because we Americans would demand crappier food and dirtier bathrooms. The only country with truck stops as awesome as Germany is possibly Japan. If there were a truck stop world war, those two countries would come out on top without a doubt and things would never be the same.
Our first show back in Germany was in Osnabruck at a really cool club called Kleine Freiheit. You have to walk through an old converted school bus to get into the club and then things get even more exciting from there. The club staff cooked us a delightful meal and gave us a bunch of stuff to drink. For the first night of the tour, I didn't have anything but water though and was delighted to see how many proper notes I managed to hit during the set as a result. I think I might be onto something.
After the show, we hung out and talked to some of the people who came to the show, which was a delight. During various conversations, I was treated to what the guys in the band refer to as "German honesty" a few times. One woman took a few pictures of me and then, while showing them back to me on her camera, pointed out how I was getting too fat for my jacket. Another woman told me that she enjoyed how I "really didn't do all that much on stage" It was sweet.
From Osnabruck, we continued on, my ego barely intact, to Kassel to play at a food warehouse that was in the process of being converted into a rock club. It was kind of like playing in the middle of a food-based construction site, but was reasonably fun nonetheless despite the rumble of power tools and sawdust in the air. The pre-show dinner, despite being vegan, was quite delicious. The crowd, however, was a bit reserved. I found out after the show though that the club didn't have it's liquor license yet, so the audience was sober, sometimes in an impediment to rocking out to full capacity.
A particular highlight of the Kassel experience was that I learned how to open a beer bottle with a knife, lighter, or whatever other solid object I might have at my disposal. I'd seen people do this for years, but now finally knowing how to myself I feel like a man, a man with a dingle dangle you could skip rope with. If you need me to open a beer for me next time I see you, it's not going to be a problem. Bring it on.
After the Kassel show, we headed over to our hotel, which was really more of a bed and breakfast minus the breakfast. Apparently we slept in too late the following morning as the woman in charge came up to our rooms to tell us to "get out," adding that maybe we "should go to sleep earlier next time." Other than that, she seemed really nice.
After being kicked out of Kassel by the irritable German woman, we continued on to Berlin, the grand finale of the rock tour (not counting the show in Hanover the next night, which I wasn't able to play as I had to head on to London). Our show was at the Comet Club and was super fun. We played all the hits and people danced around and everyone had a really nice time in general.
Once we had packed up our gear after the show, we headed out into the Berlin night, eventually ending up at a bar called the Wiener Blut, a name I can't say without giggling. I'm told I had a really nice time there. Afterwards, we headed back to the hotel, where I slept for an hour or two before somehow making it to the airport to fly to London despite apparently hitting the snooze button on my alarm for over an hour.
I finally made it to London on fumes yesterday afternoon and then slept for a few hours before hitting the strees for a killer run as pretty much everyone I passed high-fived me and chanted my name until I was once again out of sight.
After showering up, I continued on to do a comedy show at Union Chapel. As hinted at in the name, Union Chapel is a chapel that has been converted into a live venue. It holds about 900 people and was packed. The bill included Stephen Merchant, Jarred Christmas, Doc Brown, Andy Zaltzman, and me, Dave. The place kind of reminded me of that scene in "Eyes Wide Shut" where Tom Cruise sneaks into the private club where everyone is wearing the masks only there were no naked chicks as best I could tell. Before going on stage, I had a brief freakout where I wondered how the hell I ended going into a profession where I have to walk out on stage in front of so many people who could easily throw stuff at my head. The show was fun though and my set seemed to go pretty well despite my hard-to-understand accent.
After my set at Union Chapel, I had to run out to do a short set at the Pleasance. Unfortunately, by then I think the lack of sleep and everything had caught up with me and I was not bringing full heat. No one threw anything at me though, so I am thankful for that.
In a little while, I am heading out for a Sunday roast (note: I am posting this entry a day after writing), the popular British pasttime. I will let you know how it goes. Right now I have to check on my underwear. All of it. I leave you with another photo from the day I went running in Exeter, England last week. Not too shabby.


Dave Hill

Today I write to you from aboard a ferry taking me and the rest of the Walter Schreifels Band (and some other people too) from England to France, where we will get back in our rock vehicle and continue on to Germany for some unfinished business on the rock front. We've had a lovely time this past week rocking the people of England, Scotland, and Wales and then drinking stuff before finally stumbling off to a "chippy," a British word meaning "brightly lit place serving fried stuff to drunk people, some of whom are inexplicably wearing costumes even though there is no costume-based holiday on the calendar that I am aware of." Usually I tell myself I am not going to get anything at the chippy and then end up getting some steaming pile of meat covered in whatever the guy behind the counter feels like putting on it. Then I wake up with regret and the distinct possibility of soiled trousers. I love show business. Last night, we rocked London at a club called the Borderline. It was the best show of the tour so far even though for the second show in a row there was salsa in our dressing room with no chips (In York, there were chips but no salsa. The English are mocking us), leaving us with no recourse other than to just stare at the salsa for a few minutes before giving up entirely. Anyway, the London show was packed and we rocked it with authority. I had a few unforced errors on my axe (i.e. guitar- I will not explain this again), something I always want to cut myself for, but generally I would like to think I brought the heat in a respectable capacity. After the show we went to some rock-based bar and continued living the rock-n-roll lifestyle until it was time to go to sleep for two hours and then got on this boat I am totally on right now.

Before the London show, we walked around town for a bit and contemplated buying stuff but came up empty aside from a few guitar picks. We did end up eating at a vegetarian restaurant where we all ended up shovelling down a big plate of vegetables and stuff to combat all the stuff we've been eating at the chippies mentioned earlier. I'm the only guy in the band who's not a vegetarian, but sometimes I just roll with it and realize that vegetables aren't so bad after all. Arthur, the excellent bass player in the band, is a vegan, which is a level I probably couldn't handle given my affinity for eating a pint of ice cream every night whether I need it or not. Speaking of Arthur, that's him on the right above eating some fried stuff with Drew, our drummer who is also a bastard person I am going to fight. Backing things up a bit, the night before London we rocked Cambridge, home of my safety school, Cambridge University. Our show was at the Haymakers and was largely a sausage party, but still a fun time with a fun crowd who weren't exactly opposed to the idea of good times all the time. Before the show, the club folks cooked us a vegan curry-based dish that was surprisingly delicious even though no animals had been wrestled to the ground to make it possible, something I usually require in a meal. After the show, we ate more fried food. I got a gyro to make up for all the vegetables I had eaten earlier. Then we headed for a our last night at a Travelodge, the hotel of champions. Generally speaking, the Travelodge pretty much blows as far as hotels go, but after a while it becomes sort of like an itch you don't mind scratching. Also, their mascot appears to be a gay, leather-clad bear (the animal, not the large, hairy subset of the homosexual community), which is generally a recipe for instant good times and pretty much makes up for the fact that they don't provide shampoo in the rooms and whoever is staying next to you will most likely be listening to dance music at full volume until about five o'clock in the morning. The night before Cambridge, we rocked the Cavern in Exeter. Some rock trivia: Walter played the very first show ever held at the club way back in the '90s with his band Quicksand. Anyway, it was another fun show during which we played all the hits for the first time in the UK since they weren't having a disco in the club the second we finished and, as a result, we could play a bit longer. During one of our last songs of the night, Walter fell backwards over his amp and onto the stage yet still managed to come away unscathed and fully rock capable. It was impressive. The morning after our Exeter show, I went for a run around town and happened upon these swans pictured at the top of this entry. At first, I thought they were geese, which I later learned is crazy. They're clearly swans. What was I thinking? Anyway, it's fun to run around the town the morning after a show, high-fiving people and whatnot. It lets me see a few things and also work off the gyro or whatever else I might have eaten too late the night before. The morning after our York show, I went for a long run and happened upon a footpath through the woods. There was a sign warning people to be on their guard against thieves. It seemed sort of Medieval to me, the idea of thieves hiding out in the woods and setting upon an unsuspecting villager. For a moment, I was a bit scared to go on the footpath because of the possibility of running into these bad men. But then I thought the thief could be me. Sometimes it's all about perspective.
Dave Hill